Some of the world's biggest rivers drain north into the Arctic Sea, and are one of the amazing "variables" one needs to wonder about, in order to understand the many reasons arctic sea-ice varies so much.
First, one needs to focus on the fact that the flow of such great rivers, (the Lena into the Laptev Sea, the Ob and Yennisey into the Kara Sea, and the Mackenzie into the Beaufort Sea), varies enormously, for the obvious reason that, in the summer, snow and ice melt, and, (because waters cannot drain downwards and feed a "water table" due to permafrost), they feed the entirety of the thaw into rivers, but then, in the winters, the entirety of that water freezes, and rivers go unfed. In the case of the Lena River, in places the river can rise sixty feet in the spring floods, and as much as 100,000 times as much water is pouring into the sea in June as did in early April.
The infusion of fresh water into a salty sea creates a freshwater "lens" near the deltas, because the waters do not immediately mix. Fresh water is less dense than salt water, so it tends to be at the surface, and fresh water freezes more readily, because it has a higher freezing point. Therefore water by the deltas and close to the shores tends to freeze first.
"But wait", you may ask, "Is not the water close to shore warmer than water further out to sea?" Yes, but only initially. During June the river water is made less icy by long summer days, however by September the tundra such rivers wander through is swiftly freezing over, not only dramatically reducing the amount of water entering the rivers, but also the temperature of the water within the rivers. Also the water that has already reached the sea is rapidly losing its heat to the darkening sky overhead. This tends to create an updraft over the coastal waters, which allows the colder air over the tundra to flow out to sea to replace the air that has risen. This "land breeze" becomes more likely as the temperature difference between the ocean and the tundra becomes more dramatic. For example, this year October 12 temperatures over the Kara and Laptev and East Siberian Seas hovered close to freezing, while (due to fresh snow-cover and radiational-cooling) temperatures just inland in Siberia were far colder.
The swift refreeze of inshore waters was noted by both whales and whaling ships, who fled such waters in early September, (the whales because they cannot breathe under ice, and the whaling ships because sail-powered boats were lousy ice-breakers and could be stopped by as little as an inch of new ice). However scientists of that time, far from the actual situation, came up with an interesting theory, due to their study of the density of salt water as opposed to the density of fresh water.
Water is wonderful stuff, in that it gets less dense as it freezes. If ice behaved like substances such as iron or gold it would sink as it solidified, and the bottoms of our oceans would gradually fill with sunken iceburgs, likely eventually preventing life from continuing, (or even evolving), on earth. However our ingenious Creator made ice float.
Furthermore the process of water becoming less dense as it chills starts before the water actually freezes, so water at thirty-three degrees Fahrenheit will float above water that is thirty-five, if the water is fresh. But scientists noted that as soon as water gets salty this characteristic is lost, and water at thirty-three degrees will sink below water that is thirty-five.
Therefore it seemed obvious to scientists in the days of whaling ships that, as you moved away from the arctic coast, the process of diffusion would cause the "freshwater lens" atop the sea to become more salty, until the salinity reached the magic point where the coldest water was no longer less dense than slightly warmer water, whereupon the sea could not possibly freeze. Why not? Because, as the saltwater at the surface approached the freezing point, it would sink and be replaced by rising warmer water. It became "settled science" that the sea at the North Pole must be open.
It was believed that the constantly sinking cold water at the Pole drew a branch of the warm Gulf Stream at the surface north from the Atlantic, and also drew north a branch of the warm Kuro-Siwo current from the Pacific, and provided access to the Open Polar Sea. This "settled science" was the basis of the expedition of the Jeannette in 1879, which involved the Jeannette getting stuck in the ice for two years before being crushed by the sea-ice. Although all of the crew successfully evacuated the sinking ship onto the surrounding ice, less than half made it back to civilization alive, whereupon "settled science" received some needed revisions.
"Settled science" continues to need revisions, even to this day. (It would require revision even without the stupidity of a politically predetermined result, arrived-at before data is even gathered, let alone processed, due to the needs of nitwit politicians.) It requires revision because, although the laws of nature do not change, our understanding of how such laws play-out does change, especially in cases where many variables are involved.
For example, it still is somewhat theoretically baffling that vast stretches of open water freeze in the Arctic Ocean in a matter of days and sometimes hours. After all, the laws of nature do not change, and salt water at thirty-two degrees will sink below salt water at thirty-three, and therefore it should be theoretically impossible for the surface water to get cold enough to freeze, especially as the temperature of the water must sink below twenty-nine to freeze, because of the salt involved. Yet the edge of the sea-ice can extend miles during "flash-freezes", and the entirety of Hudson Bay can skim with ice in a mere week. How does nature defy science with such brazen chutzpah?
When I was a young man I lived on the coast of Maine, and got to watch during the very cold winters of the late 1970's as sea-ice formed and made life difficult for the fishermen, lobster-men, and clammers, who paid their bills by being able to access open waters.
Such men have to deal with brutal realities, and tend to keep their eyes wide open for "bad omens", and, (even though they at times forecast incorrectly and are then "false prophets"), they do observe things that indoor people never notice, and they tend to have an uncanny ability to foresee oncoming bad weather even when the Weather Bureau is still oblivious. (For example, a mere glimpse, through low scud from the east, up to high clouds veering to the south, alerts them to the fact "steering currents" are bringing the storm causing the east winds straight up from the south towards them.) From such observant men I learned it was a bad omen when a winter sea took on "that oily look".
"That oily look" was a bad thing because it often indicated a situation where spray froze on the gunnels and rigging of their boats, and, in a worst case scenario, this would make the top of the boat heavier than the keel, at which point the craft would turn upside down, which made life difficult.
I suppose it is because Climate Scientists do not get out enough, and must labor long hours indoors by hot computers, that I have never heard them describe seawater as "taking on that oily look". For the most part the refreeze of arctic waters, as they describe it, begins with slushy stuff they call "pancake ice", which doesn't address the problem created because, if cold water sinks, the surface water should never get cold enough to freeze and make "pancake ice" in the first place.
The refreeze would be sensible if the ice only extended out from preexisting sea-ice that was already floating, but, as we now watch the yearly refreeze, we will often note "islands" of sea-ice popping up on the maps, far from any other ice. How is this possible, if cold saltwater sinks? How can the water get cold enough to freeze?
My take is that the water gets cold enough to freeze by becoming airborne. Often arctic situations arise where the air rushing above the water is far colder then the water is, and a speck of spray uplifted into such air becomes super-cooled, and will immediately freeze if it hits the rigging of a ship, but, if no ship is available, it falls to the surface of the water, and immediately freezes.
Because that speck of spray is now ice it doesn't matter that going through the phase-change from liquid to solid released heat. Ice at thirty-two will bob merrily atop colder water, even if the water is twenty-nine. And, as soon as that speck of spray exists as the tiniest iceberg, it can be a sort of seed-crystal for the growth of more molecules of ice. Water chilled by gales in the proximity of the tiny iceberg, rather than sinking, attaches to that microscopic "edge" of floating sea-ice. And it is at this point the water takes on "that oily look".
In essence "that oily look" is nature's way around the fact that cold saltwater should sink, and that it should be impossible for the North Pole's salty waters to freeze in the manner freshwater lakes do. "That oily look" indicates a microscopic layer of slush exists on the surface of the sea. Because the very cold winds persist, it doesn't take all that long for the layer to become more than microscopic, and for the slush to thicken and for "pancake ice" to form.
Now, before I become too puffed up and swagger about bragging that I have the refreeze all figured out, I have to confess I have witnessed the refreeze occur without the "pancake ice" stage. Not only did I see it from afar, (through the eyes of the wonderful O-buoy cameras), but I witnessed it first hand during a record-setting cold spell at the start of February on the coast of Maine (I think in 1979). The weather made fools of fishermen that year, for they had stated with great authority, "If the hahbah hasn't fruz up by January 15th it tain't goin' t'fruz at all," and then the harbor promptly did what they said it couldn't.
The weather was dry with a steady north wind for days, and at one point we experienced something like a week without temperatures getting above five (minus fifteen Celsius), and the sea froze not as lumpy grayish pancake ice, but as black ice, smooth as glass and surprisingly transparent, and with a slight white dust of salt exuded from the ice and drifting across the the black surface. It is completely beyond my ability to explain the physical dynamics of such a flash freeze, but it was not beyond my ability to take advantage of the rarity, and go skating on the smooth sea. In fact my older sister and I skated from the Harraseeket River in South Freeport down to the Royal River in Yarmouth, (primarily over shallow mudflats and only occasionally [and very nervously] across tidal streams). The fishermen's wives stated we were fools and were risking our lives, but I prefer to modestly think it was a feat never done before nor since. (I should also mention the salt wasn't too good for my skates.) Lastly, it is this sort of first-hand observation that teaches one that nature has nuances one doesn't consider, when contemplating natural laws indoors by a warm computer.
One fisherman shared a first-hand observation, (IE: told a tale), describing something I have never myself witnessed. He was motoring slowly through bitter cold, to avoid making any splash that would get ice on his decks. There was no wind and no spray, and the water, though it had "that oily look", was steaming like a cup of tea, so great was the temperature-difference between the water and air. Fishermen call such steaming "sea smoke", and it made the day gray. Then it started to snow fat, lazy flakes. These flakes, when they landed on the water, didn't melt. The water temperature was around twenty-nine, and the melting point of snowflakes was thirty-two. For a while the snow got heavier, and the fisherman stated the snow atop the water continued to accumulate until it was more than an inch deep. He was motoring slowly through white fluff as unsubstantial as froth.
Here again we have the first-hand experience of a man with no scientific training, which might give people sitting by computers an inkling of how ice can form atop the arctic sea even though cold water sinks.
Many such men existed in the 1870's. They had existed for centuries, because back then the way to get oil was to drill whales rather than bedrock. Whales had grown more scarce due to the growing need for oil, and to find them, more ships ventured into the arctic than currently do. They followed the whales, and noticed no whales ever headed north towards a supposed "open polar sea", even when the sea-ice was disgorged to the south into the Atlantic (as was the case in 1817) and the waters to the north were wide open. Whalers also knew from experience open waters one year were no guarantee there would be open waters the next, and also that gales from the north could bring crushing sea-ice south, and they had best be ready to turn tail and flee like the whales did, in such situations, or their ships would be crushed. But so great were the profits the risks were deemed worth it, and crushed ships were a supply of firewood for the Eskimos of that time. In 1871 31 ships were trapped and lost all at once, and 1219 people, including some women and children, successfully escaped and eventually made their way to Hawaii.
Considering this vast amount of crushing ice came from the north in 1871, during the time of the sea-ice minimum, a certain amount of skepticism regarding existence of an "open polar sea" likely existed among whalers. Tapping into these first-hand observations might have saved the men aboard the Jeannette a lot of trouble in 1879. Instead, the "authority" of that time was consulted, a mapmaker named August Heinrich Petermann.
The irony of August Heinrich Petermann's maps was that he did seek out whalers as well as explorers and gleaned as much information as he could. He lived at the end of decades of daring exploration in the arctic, fueled partly because Britain had a 600-ship-navy sitting idle after Napoleon was defeated, and partly because the Arctic passed through a period of low sea-ice extents. Not only was there the phenomenon of the practically-open Arctic Ocean of 1817, due to sea-ice being shifted down into the Atlantic to a degree where it grounded icebergs on the coast of Ireland, but there apparently were low amounts in the Northwest Passage as well. In 1819 William Parry was able to sail further west in the channel that now bears his name than was possible for many years afterwards (and was impossible to do last summer.). The sea-ice then recovered with a vengeance, leading to the doom of the Franklin expedition in 1845, and also leading to a gradual shift towards searching for different routes across the Pole. Seeking a new route was a reason for the complete debacle called the "Polaris Expedition", 1871-1873, up in Nares Strait between northwest Greenland and the Canadian Archipelago, (wherein the captain was likely poisoned by a jealous rival for a beautiful young woman they'd left behind in New York City). All these expeditions, both the well-run ones and the doomed, (and even the rescue efforts to find the doomed), increased information about coastlines, and August Heinrich Petermann was brilliant when it came to gathering all this coastline-data and producing the world's best maps. However he was a bit of a dullard when it came to gathering a different sort of data, namely the first-hand observations of whalers who knew the actual nature of the actual sea, and likely should have been consulted, regarding the possibility of an "open polar sea". Such homespun wisdom was dismissed, because the whalers were not scientists nor cartographers. Instead those who said "polar seas must be open because cold salt water sinks" were consulted, and August Heinrich Petermann's maps contained an "open polar sea" because…well…because he drew the maps.
Let us be unkind, and rather than calling the maps "mistaken", let us call them "fraud", used by Petermann to lobby one of the richest men in the world, James Gordon Bennett Jr., to fund a Jeannette expedition doomed to failure, for it was seeking open water where open water wasn't. (This noble and tragic adventure is described in great detail by the historian Hampton Sides in "In The Kingdom of Ice").
One sadness of the Jeannette expedition is that the men hauled the scientific records they had collected back, as they grimly fought their way over ice and open water and frozen tundra, towards the safety of civilization, and those records survived even when many of them didn't. Therefore Petermann's thirst for more knowledge was in fact fed, but at a great cost, and it didn't produce the answers he expected. (An irony was that, though the Jeannette sank, strewn about the hole its sinking left on the sea-ice were items, left behind as the crew headed south, and these items eventually showed the drift of the sea-ice. The items crossed the arctic, atop sea-ice which then flowed down the east coast of Greenland to Cape Farewell at Greenland's southern tip, and lastly a bit up the west coast of Greenland to near Julianehåb, where the items were flotsam identified as being from the Jeannette, in 1884. This in turn led to Fridtjof Nansen's marvelous exploits, attempting to drift across the Pole locked in sea-ice aboard the Fram, between 1893 and1896.
Due to the adventures and misadventures of early whalers and explorers, we actually have quite a lot of first-hand observations of where the edge of the ice was and how the sea-ice moved, from the past. Unfortunately there seems to be the same problem today that afflicted August Heinrich Petermann 150 years ago. First-hand observations from the past are ignored because they do not come from Climate Scientists, nor satellites, and instead misleading concepts are put forth because…well… because they affirm the misleading concepts.
Let us continue to be unkind, and rather than calling the misleading concepts "mistaken" let us call them "fraud". However, rather than using the mistaken beliefs to lobby James Gordon Bennett Jr. for money, modern men now use their mistaken concepts to lobby bloated governments. Worst, rather than sending a mere 33 men aboard the Jeannette into danger, the modern mistaken views may be sending billions of people into unnecessary danger.
It seems to me no one should perpetuate such a fraud if they love their fellow man. First, who willfully lies to those they love? And second, who willfully places those they love in danger?
The closest I have seen to an attempt to look remotely loving, while justifying the perpetuation of mistaken concepts, contains a dismal assumption. The dismal assumption is that mankind is going exhaust its resources, and we are therefore all doomed to begin with. Consequently, considering seven billion are going to die anyway, we might as well "cull" the seven billion in an orderly manner. Hmm. I suppose the death of seven billion is acceptable if it is unavoidable, but is it unavoidable? Or is it merely a product of pessimism?
Such gloomy views have been around at least since Thomas Mathis wrote "An Essay on the Principles of Population" in 1798, and they have constantly been proved incorrect. Sadly, while it is no sin to be incorrect, such cynicism has all too often been an excuse for subjecting others to various forms of slavery and disadvantage, and, when one blithely talks about reducing the world population by seven billion, such gloomy assumptions also seem a thinly veiled justification for massive and unprecedented genocide.
Rather than expressing faith, hope, and love towards fellow man, such gloom demonstrates deep distrust towards man's ability to solve problems, when in fact one especially lovable quality of free people is their ability to invent gadgets and techniques which do solve the very problems that the gloomy see as absolutely insurmountable.
I have lived long enough to see quite a number of doomsdays come and go, involving not merely the alignments of planets and the prophesies of Daniel and Nostradamus, but concepts such as "peak oil" and "peak population". It is fascinating to now look back at the published ideas of "The Club of Rome" in 1970, and to see how utterly incorrect some of their assumptions were. Much that was seen as "unsustainable" has been merrily sustained. Third world nations such as India have not devolved into the wastelands-of-mass-starvation which the gloomy so confidently foresaw, but rather are better fed and better off.
What the gloomy failed to foresee was Ingenuity Manifested, within things such as "The Green Revolution", yet their failures-to-foresee do not cause the gloomy to alter their forecasts, for they see such progress as merely "delaying the inevitable", and they double-down on their pessimism. At it's worst, their pessimism actively creates poverty. It is as if they are so irked by troubles not arriving in the manner they foresaw that they make trouble, just to prove themselves correct.
For example, back in the days when I was skating on sea-ice along the coast of Maine, we were supposedly "running out of oil". Jimmy Carter was president, and appeared on television at the White House wearing an absurd sweater, telling us we needed to all turn down the thermostats in our houses. The "oil producing nations" had demanded higher prices for oil, and the United States was no longer a member of that club. There were long lines at gas stations, and traffic on highways slowed to 55 mph, by law, to save gas. In a "National Geographic" I saw a graph which authoritatively stated "peak oil" would occur in 1980. Because we were "running out of oil" we dutifully did what smart people do, which is to prepare for the inevitable. We put wood stoves into our houses, and, to heat our water, we put solar panels on our roofs (to this day the smartest use of solar power, because a tank of hot water in your basement stores solar energy far more cheaply after sunset than a battery does, especially when it comes to running your hot-water-heater.) But…
…But the simple fact of the matter is that we did not "run out of oil". This seemed to peeve some people. Prophets of doom dislike being proved false prophets, and drag their feet in the face of progress.
When new oil was discovered, the pessimists did everything they could to make oil-exploration difficult, (with new regulations), and then, when "fracking" made it possible to glean more oil and gas from areas which were assumed to have been largely "exhausted", they did everything possible to make "fracking" a dirty word. But me? I am amazed such pessimists can gripe. Why? For I am utterly amazed and deeply impressed by the ingenuity displayed over the past forty years. If you had told me, when I skated sea-ice in Maine and Jimmy Carter was president, that, in forty years, the USA would be exporting oil and gas, while an oil-producing OPEC nation like Venezuela would be in a state of ruin, I would have laughed in your face. I was wrong, and am somewhat glad I was wrong, but others seem irate they were wrong.
I am aware I am starting to rave, and seem to be drifting far from the subject of sea-ice, but have no fear. I will revert to sea-ice shortly. However I must discuss "the irate" a bit, because they even enter discussions about sea-ice.
I think "the irate" are those who are sure things are "unsustainable", and are equally afraid they may be the ones who will eventually suffer, when we run out of food and fuel. Consequently they become ruled by fear, rather than love. They are so sure famine is coming that they see it as frugal common-sense to be misers of food, blind to differences between being sensible and being stingy. Clinging to what they have, they see others as a threat, rather than seeing others as brothers and sisters who we can work together with, to avoid famine.
In actual fact the word "sustainability" involves sustaining all people, not just those who have a selfish viewpoint wherein "sustainability" only sustains their position of privilege.
The fact of the matter is that "sustainability" is one of those tricky words, able to be used to justify evil because it sounds so good. Another such word is "non-violent". Surely "non-violent" is usually a good word, but a man who stands by and does nothing violent as his mother, wife and daughter are raped by a stranger is not a saint; he is a yellow coward. In like manner, a man who talks about "sustainability" when primarily interested in preserving a status quo wherein he has, even as others are "have-nots," is not a saint; he is greedy.
One quality of those trapped within such a state-of-mind is that they tend to propose rationing, rather than proposing increase. (Quite often the "rationing" is hypocritical, where "have-nots" need to cut back even as the elite "haves" continue to enjoy lavish lifestyles). The royalty wishes to remain royal and prefers the poor to remain peons.
This seems a bad attitude, like that of a man so concerned about a shortage of potatoes that he hoards them rather than planting any in the spring. It is the antithesis of the attitude of a man like Norman Borlaug, whose work with improving strains of wheat may have saved a billion people from starvation. Instead it is a "bad attitude" which not only failed to help a "Green Revolution" occur, but at times even was a stumbling-block attempting to prevent "the Green Revolution's" manifestation. It remains a bad attitude that not only fails to help a "Fracking Revolution" manifest, but is a stumbling-block attempting to prevent its manifestation. Tragically, souls with this attitude not only fail to love, but are a stumbling-block that seeks to prevent the beauty of love from manifesting.
What an odd state-of-mind! In the name of "rationing" it allows one to deny others, enslave others, even exterminate others, all in the guise of "becoming sustainable"!
I think I know this selfish state of mind, having experienced it myself as a young man on the coast of Maine. My experience was as follows:
I knew of a small beach which was usually deserted, especially after school let out for the summer, because the secluded cove was owned by a small college. After the college closed in June I took a young woman to the beach with nefarious motives. When we got there another couple was strolling the same beach. I found their presence annoying and even frustrating (perhaps for biological reasons), and noticed my mind became crabby and began producing intellectual discussions about the problems of over-population and crowded beaches. My view was that the world would be a better place if the other couple could be "disappeared". The young lady I was with was somewhat shocked by my negative attitude towards my fellow man. Instead of being warm towards me, she shot me a look of distaste and walked over to the enemy, involving the other couple in a conversation. Though initially glum about involving myself with anyone besides the young lady, I went along with her, and somewhat to my surprise discovered I had a wonderful time swimming with strangers. (Perhaps the cold water of Maine had the same effect as a cold shower.) The strangers turned out to be fascinating people who broadened my mind, and also told us of a good, nearby snack-bar. So we went and got an excellent lobster roll. It may not have been the roll I wanted, but at least the afternoon was not a total loss.
Such experiences were quite common during my misspent youth. My attempts at seduction were a long series of debacles and fiascos, (and explain why I first became a father at age 38, rather than at age 18 as I planned), (and also why I was at times a very crabby young man). I did not get what my ulterior motives desired, but sometimes perhaps we should feel sheepish about our ulterior motives, and count our blessings for what we actually get.
I bring this up to own the fact that, because I did once wish two very fine people could be "disappeared" from a small beach, I should be included with those who wish seven billion very fine people could be "disappeared" from a small planet. However hopefully I was a little different, in that I recognized my logic was ruled by lust's frustration, and was not exactly the sort of logic that scientists dub "objective." Others seem sadly less self-aware. They seem ruled by ulterior motives without the awareness they are ulterior.
What is "ulterior"? The definition of the word "ulterior" is "lying beyond that which is evident." "Ulterior" therefore is that which is undiscovered, and should be of interest to all researchers.
However an interesting thing about human nature is that we often are unaware of the value of things until we are deprived. Subjectivity has its value, for we never value water until it is a hot day and we have none. A person with lots of water could call fighting for a sip of of water "silly behavior", but only until they themselves were subjected to extreme thirst. Then they discover they too can be "silly". It is only when confronted by such desperate impulses within the self that one faces truly spiritual dilemmas, regarding how one will respond. Will one punch a small child to gain a sip of water? Or will one suffer, so the child can drink?
For this reason the people who, one way or another, experience great thirst, can be the people who through subjective suffering gain objective wisdom. This is not to say they always make the right choices. They may have even punched a child one time, and faced great chagrin before, the next time, they did better, and allowed the child to drink first. However in the end they have an awareness of thirst which people who have always had water lack. For such people thirst is a reality they understand, while, for those who have never thirsted, thirst remains "ulterior."
Blessed are the poor and they who suffer, for they are down-to-earth and are aware of essentials. Pity the rich, for they have little idea of the "ulterior" that motivates them. Like a cigarette smoker who has never run out of smokes, the rich are unaware of how crazy they would become if deprived, but such craziness rules them all the same.
The wealthy sometimes become aware that something is missing, and feel depressed despite having everything they could possibly obtain (in material terms). They then can afford to hire very expensive psychiatrists to help them look within for "subconscious" causes for their depression. Basically they are halfheartedly seeking to become more self-aware of "ulterior motives", but often they don't really want to see what the psychiatrist attempts to point out, and put up a fight, and the psychiatrist then can become quite rich by prolonging the battle. Psychiatrists use all sorts of fancy words for how people deny the truth, and their clients have all sorts of clever ways of arguing that the fancy words do not apply to them and their particular case, and all of this expensive talking, and talking, and talking, can seem very humorous to the poor, who have managed to become aware of "ulterior motives" without spending a dime.
In the worst cases the wealthy, despite seeking education in fine institutions and colleges, and despite being under the guidance of the best professors and psychiatrists and gurus, have no real reason to call the uneducated "stupid" or "deplorable", (though too often, in their vanity, they do exactly that.) Why? Because sometimes the poor are far smarter. Why? Because sometimes, in seeking to avoid the pains of life, we avoid the very Truth that teaches. It matters little if you avoid pain with heroin, or by accepting a corrupting bribe, or by marrying a rich person you detest, or by disdaining good advice; if you successfully avoid pain you are possibly ruled by your "ulterior motives", and are potentially much less likely to become aware of such "ulterior motives". Meanwhile, in this sort of worst-case-scenario, the poor face pain every day, and become far more aware of "ulterior motives". Therefore the poor can become far more able to rule such cravings and desires, while their so-called "rulers" are basically addicts ruled by a fear of withdrawal. In such a topsy-turvy society we can sometimes see what seems utterly impossible occur, wherein the underdog abruptly stuns the champion; the small David defeats the huge Goliath. History is full of examples of small nations seemingly appearing out of the blue and rising to a sudden prominence that shakes the mighty. (The Mongols were just a bunch of feuding Hillbillies, and then along came Genghis.)
Yet, although history is replete with such examples, and although the wealthy often adore historical novels, movies and plays, they too often miss the point, the underlying narrative, which is that Truth matters, and is a joy to those who can bear the pricks of pain involved with seeing Truth. Instead some become so lost in avoiding pain that they become comfortably numb, and wander midst an attitude of unawareness.
This "unaware attitude" seems comical, in an ironic way, to the poor and aware. I recall the fishermen of Maine used to joke about the attitude of wealthy people who retired to Maine. The fishermen stated, "The moment them wealthy folk gather up their loot 'n' move, from makin' money in them big cities, t'down east here in poor, old Maine, they want to burn the bridge at Kittery behind them". (Kittery is at the southern border of Maine).
The "unaware attitude" often seems a sort of selfish, NIMBY attitude that deprives others after satisfying the self, and even a strange and sad proof of Henry Ford's statement, "If you say 'I can', or say 'I can't', you are right."
Why? Because it is people who love who make a better world, who beget a "Green Revolution" and a "Frakking Revolution", while it is pessimists who deem love impossible who make the world worse, and who fight progress, and desire deprivation.
One of the pricks of Truth I've felt was seeing I too was such a pessimist: If I'd had my way, back when Jimmy Carter was president, a rogue wave would have swept two strangers out to sea just before I arrived at the small beach, and I would have had my way with a young woman. And then? I suppose that, (because the purpose of sex is procreation), I might have become a father far earlier than I actually did. Yet, as a young father, after increasing the "overpopulation" myself, I might have then insisted the population of earth (back then) was too high at 3.5 billion, and, with a flippant disregard for others, claimed that any further "overpopulation" was immoral, and that the 4 to 5 billion conceived since were somehow "unsustainable." (It was beyond my ken, at that time, that a future increased-population of 4 to 5 billion could possibly be enjoying bigger meals and a longer life-expectancy than had ever before occurred on earth.) (The word "liberal" supposedly means "generous", but the "liberals" of my youth wished to "ration". What is so generous about cutting back?)
But I confess I was of that mind-set. I sowed in a negative manner, and reaped negativity in many ways. But, unlike some other liberals, I was honest about my experiment, and my personal motives were not quite as "ulterior" as the motives of others now seem to be. I may have utterly failed when it came to seducing a young woman on a beach in Maine, but I succeeded in discovering there is life after such failure. In like manner, I discovered there is life after the world-population surpassed 4 billion, 5 billion, 6 billion, even 7 billion. Rather than the hell predicted, billions of children were born, enjoyed decent childhoods, and became young adults full of the hopes young adults have.
Let me put it this way: Do you believe in democracy? What chance would my former belief have, in an election today? I claimed that the billions born in my lifetime should not be born, but here they are. Now suppose we vote about whether they should have been born. Who will win that election? Me, or the billions of vibrant young people? And, after the results were tabulated, who should change their views? Me, or them?
The answer was fairly obvious to me, even before the four to five billion were born. Even before Jimmy Carter stopped being president I sensed my so-called "liberal" views were not truly liberal, because they were motivated by greed and not generosity, and lust and and not love. I needed to shed greedy and lustful "ulterior motives". It was painful not to get what I desired, but in the long run my life was better for putting my desires aside, and accepting the Truth even when it didn't fit the "script" I had written for myself, about how my life should be. Truth is always better.
How? Well, explaining that would involve explaining how things worked out over the next forty-five years. It would be a long and involved answer, take pages upon pages, and is not the question you should be asking. Instead you should be asking:
What does this have to do with sea-ice? Well, there are two main reasons.
The first is that some involved in the subject of sea-ice seem to have ulterior motives. Their motives are not the simple ulterior motives that August Heinrich Petermann had, when he lobbied for money to discover the "open polar sea", but are much greater whoppers.
Even though Petermann was deluded, at least he yearned to map the arctic better. Such betterment could be hoped to end his delusion with hard facts. But modern arctic investigators? They own ulterior motives which, when push comes to shove, could care less about any further discovery in the arctic. Therefore there can be no betterment and no end to delusion.
What many modern arctic investigators seemingly care most for is "funding". Perhaps the funding was originally seen as a way to further research, but at some point the research was neglected, and finding funding became the focus. In some ways money became such an ulterior motive that researchers entered a strange reality wherein the motive became more real than the science, and in order to justify this motivation they went so far as to attempt to replace what is real with what is false.
I don't think, even in my misspent youth, I was ever quite so absurd as that. I may have had unrealistic dreams, but I could be brought down to earth by a woman's disapproving glance, and then was forced to recognize the difference between what was hopeful fantasy and what was false. I might be extremely annoyed when my attempt to seduce a young woman on a Maine beach was interrupted by another couple. However, if I had attempted to "replace the reality", what would I have done? Shoot those two innocent people dead, and then attempted to proceed with my seduction? I was never close to becoming that evil, because such behavior owns an ugliness utterly unlike what my nefarious activities desired. "Disappearing" others was too ugly to be included in my beautiful fantasy of seducing a beautiful babe. However, among certain arctic researchers, "disappearing" the data of other researchers has been acceptable, and even has been tantamount to what they were hired to do.
Going into the dreary details of such destruction of data is depressing, and I don't want to linger long on such a subject. However it has been widespread. The cause has seemingly been because the poor, or even the not-so-poor, are susceptible to bribes.
For example, when parts of the temperature-record of Iceland was "disappeared" the chief meteorologist of Iceland threw a fit, until he met with those who had lots of money. Then he abruptly was OK with parts of the temperature-record of Iceland being "disappeared". I fear he was bribed.
I myself have never been the chief meteorologist of Iceland, and therefore have never been subjected to bribes. I've never had my "ulterior motives" tempted to such a degree. Therefore I will not criticize a man in whose shoes I haven't walked. (Maybe he used the money to pay for a friend's expensive cancer treatments. Who am I to judge?) But I will say that the altered record is bullshit, and arctic record-keeping seems full of such bribery-induced nonsense. So many arctic records are obviously incorrect (if you have studied the subject) that you need to screen the data with the assumption you are dealing with a pack of liars.
For example, just look at the old records and compare them with the modern "adjusted" records. Here is the sea-ice "extent" graph from 1976, when Jimmy Carter was president.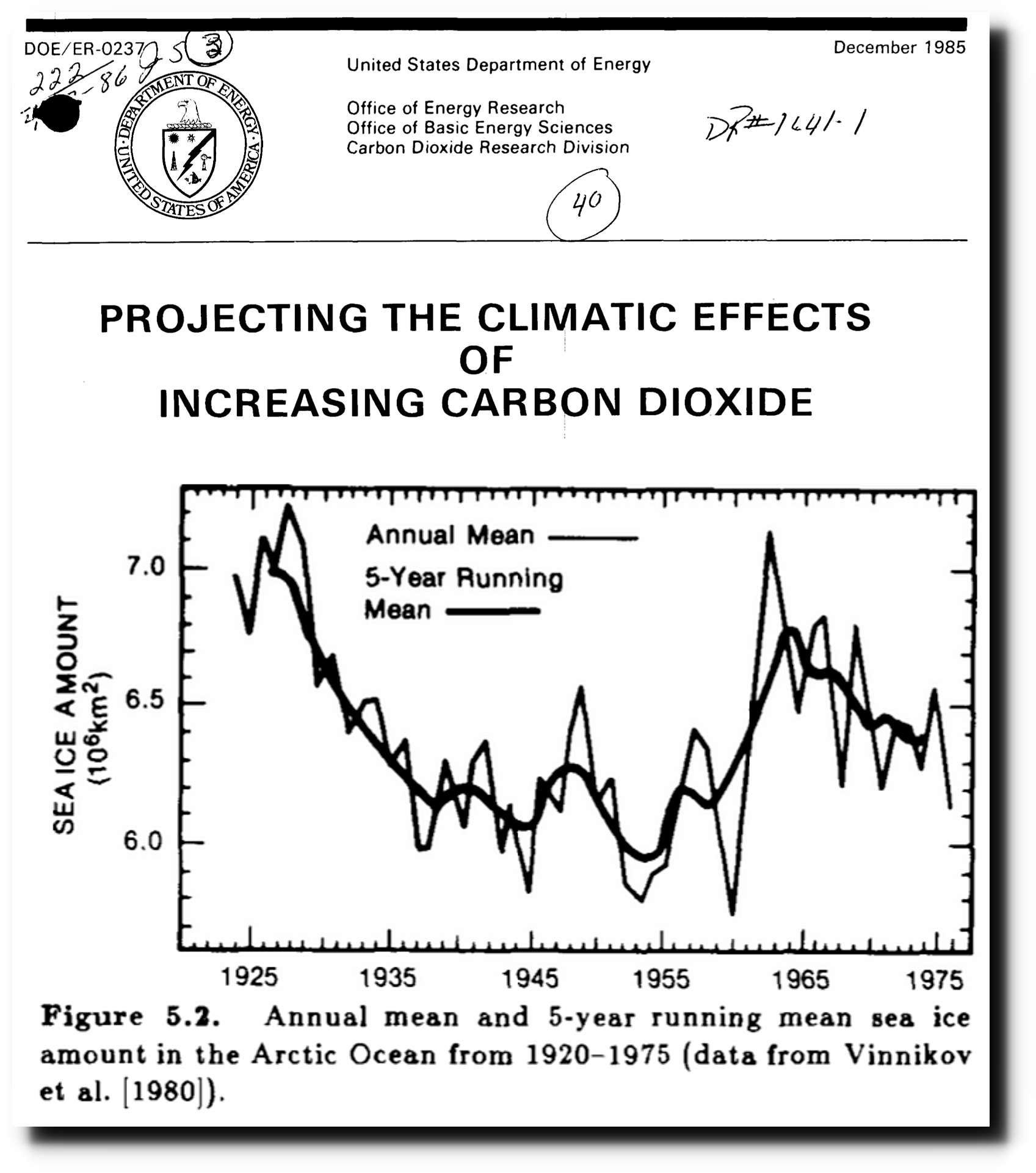 This graph documents very low extents in 1945, 1953 and a record-setting low in 1960. This was followed by an extraordinary "recovery" by the winter of 1962-1963, but then sea-ice again began melting away to far lower levels.
The above graph represents a lot of hard work done by many dedicated scientists, yet is currently spurned. Why? Because they did not have satellites back then, and therefore the hard work of decent men is deemed "inadequate".
OK, OK, OK. Be that way (though it seems snobby and dismissive to me.) Let us look at only the "satellite record", as it was graphed in 1980, (beginning in 1973, though we have pictures from the first Nimbus satellite going back to the mid 1960's).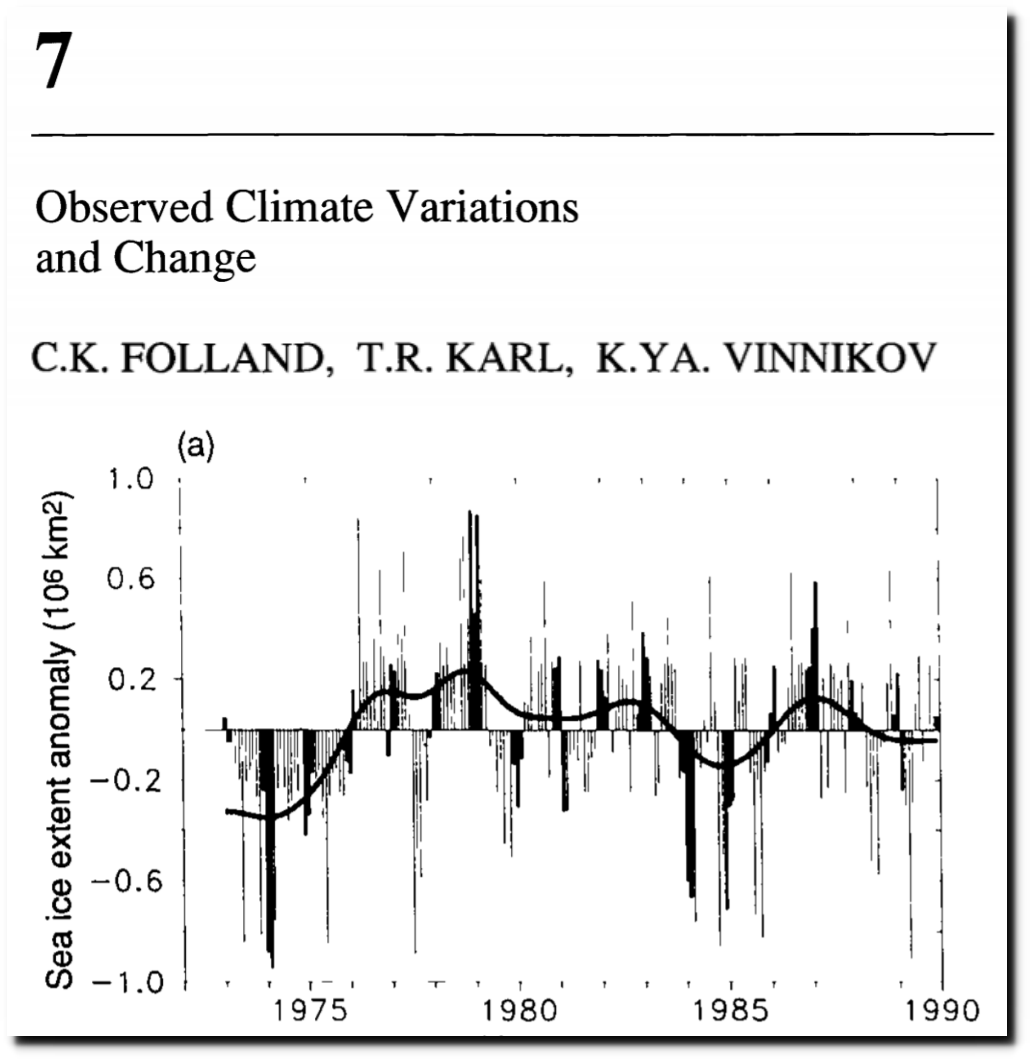 There are some interesting differences between the early 1970's in this graph and the prior graph. It would be fascinating to learn the reasons, which would involve looking at the data. However both graphs agree sea-ice was at low levels, in the early 1970's, much like today's. Down near 6 million km2. Certainly not up around 8 million km2. Yet look at the modern, "adjusted" graph, for the same period.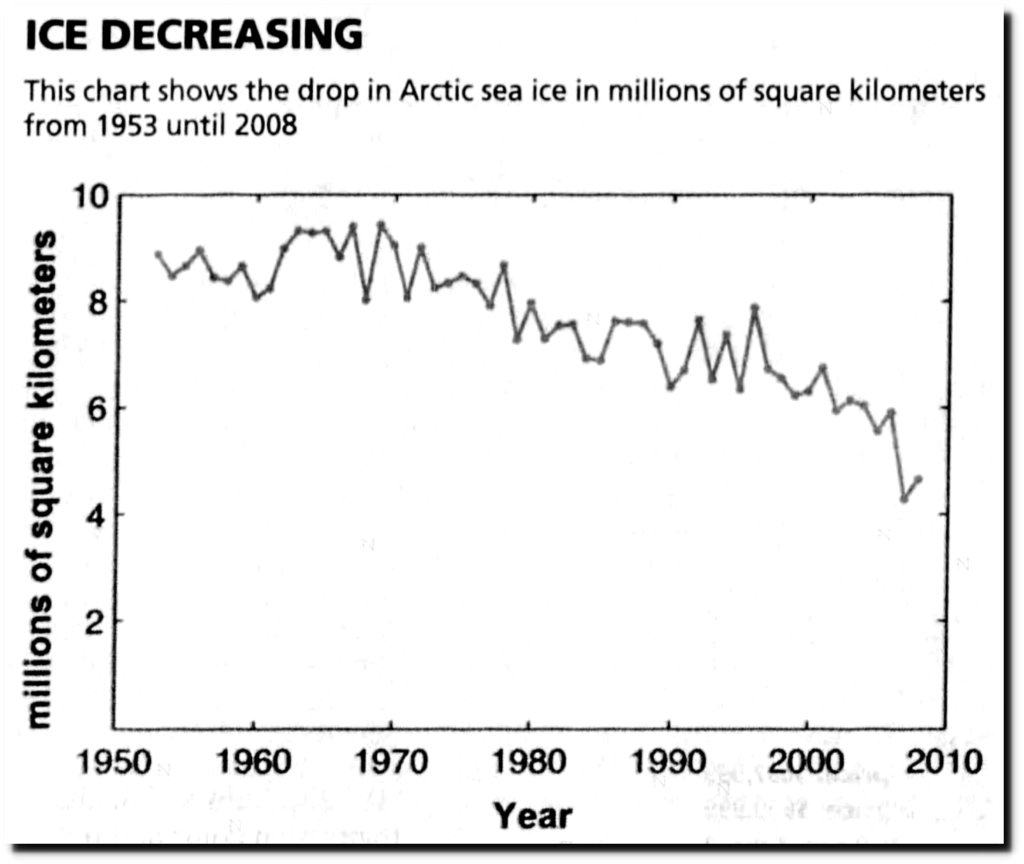 How is it possible to "adjust" the sea-ice totals for a very low year upwards roughly 2 million km2? Are such "adjusters" aware what they are saying about the dedicated scientists who worked back at that time? They are in essence calling them idiots, for recording the data they recorded, (even as the past experts often worked in extreme and dangerous arctic conditions).
Before I myself dismiss such scientists who lived in the past I need to see a clear analysis of their data which shows exactly why they were in error. None has been forthcoming. In fact all the analysis of data I myself have done seems to show that the ones in error are the modern "adjusters". They claim sea-ice was thick in cases where we have first-hand records, and sometimes photographic evidence, that the waters were open. The "adjusters" have no business adjusting the records of honest and decent men who are no longer around, and cannot defend themselves. In fact, if anyone needs adjusting, it is the "adjusters" themselves.
I rest my case: You cannot deal with modern arctic data without sensing you are dealing with liars. You are dealing with people who accept bribes, perhaps because they feel Truth doesn't make them enough money, and even feel that Truth might be a bad thing, because Truth might put them in jail for forgery.
I do feel a certain pity for such people. Perhaps they spent years studying the arctic in college, burning the midnight oil, and when they graduated they discovered the general public could care less about arctic sea-ice, and no jobs were available, and they faced working an ignoble job in a fast-food restaurant, flipping burgers. Oh, the pain! But just then they got tempted by a bribe. They could skip flipping burgers, if only they conceded to becoming an "adjuster".
The problem with such pity is that perhaps all people deserve such pity. Few get paid for what they most enjoy.
I too burned the midnight oil, but rather than arctic sea-ice I studied poets. I studied Shakespeare and Milton and Shelly and Chatterton and Keats and Dylan Thomas and Frost and Dr. Seuss. And when I graduated I discovered the general public had no use for my knowledge, and no jobs were available, and I faced working in a fast food restaurant, flipping burgers. Oh, the pain! But in my case no one tempted me with a bribe. So I had to flip burgers.
Flipping burgers wasn't so bad, nor were the hundred other jobs I had to take that were "beneath me." In fact, the pricks to my ego were a gateway to the ordinary life of those who are the salt-of-the-earth. In some ways it was an honor to be humbled, because I became part of what makes life possible. Your roof doesn't leak? Don't thank experts about poetry or arctic sea-ice. Thank the roofers, and I got to join their ranks for a little while.
Not that I didn't whine. What poet wants to quit a composition about beautiful clouds because he has to work under a blistering sun, hammering nails on a hot, noontime roof? Only now, many years later, do I feel honored that, (even though many are not thankful for what doesn't happen), I am why your roof doesn't leak.
I am also why roofers have nails, because I worked in a nail factory. And when you look at the label on a bottle of wine or ketchup or a can of sardines, understand I have made those labels. When you open the sardines, understand I worked in a cannery. When you ride a high horse, understand I shoveled the stables. I have worked making and lubricating ball bearings large and small, and even computers need ball bearings. And that is only six jobs of a hundred, and each was an insult to my ego, for I felt I should instead be paid for my poetry. Yet each insult made my poetry better, more down-to-earth, more real. In the end I feel my so-called "bad fortune" is far better than the fortune of a so-called "sea-ice expert", who thinks he is better off accepting bribes to perpetuate propaganda. I wouldn't like to be in his shoes, when he looks in the mirror.
This brings me to my second point, which is that such negative behavior never results in good. It may seem "right", but it is the negative side of Henry Ford's statement, "If you say 'I can' or say 'I can't', you are right." The side-of-the-negative is the side that states, 'I can't'. It states "starvation will be widespread by 1980" and denies the "Green Revolution" will happen. It states "the United States will be an oil-importer forever" in 1974, and can't imagine the United States exporting oil due to the "Fracking Revolution" in 2019. In essence it is a negative shadow, which cannot face the light of Truth.
Opposed to this depressing power is, I would like to suggest, a positive power that affirms Truth. Not that Truth needs affirming. Truth remains perfectly true even if every person on earth denies It. In fact reality is the other way around: We do not sustain Truth; Truth sustains us. And it is for this reason that underdogs can display such an ingenuity and prowess and even power, if they honor integrity and honesty, that they unseat the mighty. It is why little David could defeat huge Goliath. In a sense truthfulness taps into the greatest power on earth, Truth itself, releasing benefits which those who cling to power and money don't believe can ever come about, and therefore don't include in their financial forecasts, (and all other forecasts as well.)
The difference between Truth and dishonesty is symbolically like the difference between a bud that is grafted to a root, and a bud that isn't. The first will thrive while the second will wither. The pity is that some see the fruits the bud produces and seek to hoard such produce, (money, power, the admiration of others,) in a manner disconnected from the root. By doing this they in essence seek a byproduct of growth even while cutting themselves off from growth's nourishing root.
The irony is that we can see the foolishness of such behavior when others do it, but tend to be blind to examples of our own foolishness, (or we excuse our own foolishness as being some sort of "necessary evil"). For example, we'd call it foolish if we saw a farmer who so overvalued a byproduct such as manure that he spent all his money on manure and none on feeding his animals, yet at the same time we might be maxing out our credit cards and running a deficit budget all our own. In like manner Communists see the irresponsibility of Capitalists while Capitalists see the irresponsibility of Communists. All too often both fail to look within to see if they are securely grafted to the root of Truth, or are merely seizing upon byproducts.
One quality that seems associated with those cut off from Love's root is a sense of impending doom. Madame de Pompadour stated, "Après nous, le déluge," and Alexandria Ocasio-Cortez states "The world is going to end in twelve years." Often the sense of doom leads to drastic measures, guillotines and purges and genocides, which seem a self-fulfilling prophecy, bringing about the very dooms they seek to avoid. Hitler's hate of Jews and Slavs did not save Germany from ruin, and Stalin's hate of farming Kulak did not save Russia from starvation. All of Maurice Strong's dishonest manipulations to "save the planet" left him an exile, an old man hiding from justice in a Peking apartment. To me all these examples seem proof of the second half of Henry Ford's statement: If you say "I can't", you're right. The greatest irony is that some basically waste fortunes, pouring money down a rat hole, unaware all their efforts are cutting themselves off from the root that creates fortunes in the first place. In my view George Soros has literally expended billions to say, "I can't". (I'll never understand how he could pour such fabulous amounts down a rat-hole, when he might have spent it on me).
At this point I'd like to suggest the chilling effect of cutting yourself off from the root of Truth is like the chill now descending upon the arctic tundra, freezing things up and shrinking the flow of arctic rivers to a trickle.
(There. I told you I'd get back to the subject of sea-ice, and I've done it).
What seems to happen to arctic researchers is that a compromise which initially seemed slight becomes acerbated. They felt a little compromise, perhaps 5% of the time, would result in funding which would allow them to conduct honest research 95% of the time, but such compromise turned out to be like a small spot of cancer which spread. How did it spread? Well, if the honest research discovered a Truth which went against the "Arctic Sea-Ice Death Spiral Theory", they needed to hush it up or they might offend their patron. And, because the "Death Spiral Theory" was like the "Open Polar Sea Theory", it was dead wrong, and all research would tend to disprove it. Therefore all research, not 5% but 100% of research, would need to be hushed.
It would be absurd to conduct good research only to crumple up and throw away the honest results. Why bother even fund the research? Why even bother have science or scientists? Yet such absurdity may explain why we now have a sixteen-year-old girl speaking before the United Nations as an authority on sea-ice, as scientists sit on their hands and are mum.
Cynical Sophists seem to resort to such sentimental tactics when the bankruptcy of their belief has been revealed, in all its sophisticated sterility. (When logic fails, resort to emotion.) Surprisingly, such tactics can be effective, primarily because young women do have heart, which many Sophists lack. However, once the heart is involved, there may be consequences Sophists never intended. The heart is closely associated to Truth, and can veer a person's path from safe topics into political-incorrectness. It can therefore be dangerous to involve a teenage girl in political calculations, for they can be like a loose cannon on board a pitching ship.
In terms of Truth, the hope which young girl's hearts bring to "the equation" can be like the hope of a sunrise-tundra in the spring: A dark, cold tundra suddenly lit by light: tundra moving towards a time when, under the warmth of 24-hour summer sunshine, the trickle of an arctic river becomes an amazing flood and the water rises 60 feet.
Of course the young woman involved should be careful; (after all, Joan of Arc did wind up burned-at-the-stake); however there is at least a chance the young woman's appearance is an indication the Sophist Alarmists have quit pretending to be scientists, and scientists will therefore be let alone, and allowed to do what they do best, (study Truth). This may result in a Renascence, a revival of Truth, and a surging flood of beneficial knowledge which the negative, cynical and sour never expected.
Initially there may be some hard times for arctic researchers, and some may even have to flip burgers for a while. Why? Because much funding formerly came from people who prefer propaganda to Truth, and who prefer rationing and deprivation to progress and increase. Such people become peeved when ideas such as "The Arctic Death Spiral" are not supported by hard evidence, and I surmise that may explain why the wonderful arctic cameras we once had bobbing on buoys ceased being funded, even as the cost of creating and maintaining such camera-buoys became less. Such cameras undermined the "narrative." Also further funding may dry up because pouring money down a rat-hole isn't productive, and even spiritually unwise people recognize a bad bet is a bad bet. But arctic research will continue, even if not funded.
Why? Because some recognize what a frontier the arctic is, and own a craving to be pioneers. This thirst to penetrate the boundaries of the known, and expand the horizons of knowledge, can cause some to strive even when they are not paid for striving. Just as some work fifty weeks just to blow all their savings spending a two-week-vacation climbing mountains, some work long days flipping burgers, and then, in the evening, study charts and graphs involving arctic sea-ice, just for the fun of it. And the wonders of satellites and the internet allow even someone from the Congo to study sea-ice, if so inclined. Older meteorologist stand amazed, for with a click of a computer we now can gather data that took them six months of grueling field-study to gather, in their youth, followed by six months of analyzing heaps of paper in the lab. Consequently we now have no idea where the next genius will appear, or what next marvel will manifest through the study of Truth. Perhaps the next revolution will be called "The White Revolution", and involve sea-ice.
The Russians seem to have ideas along those lines, and furthermore do not seem to expect sea-ice to vanish, considering they have built so many billion-dollar icebreakers.
Nor does Russia seem inclined to bow to members of Greenpeace, who seemingly desire that the arctic becomes a vast National Park, preserved for the enjoyment of extremely wealthy cross-country skiers. When Greenpeace activists attempt to protest in a politically-correct manner by "seizing" an arctic oil-rig, they run into Russian political-incorrectness.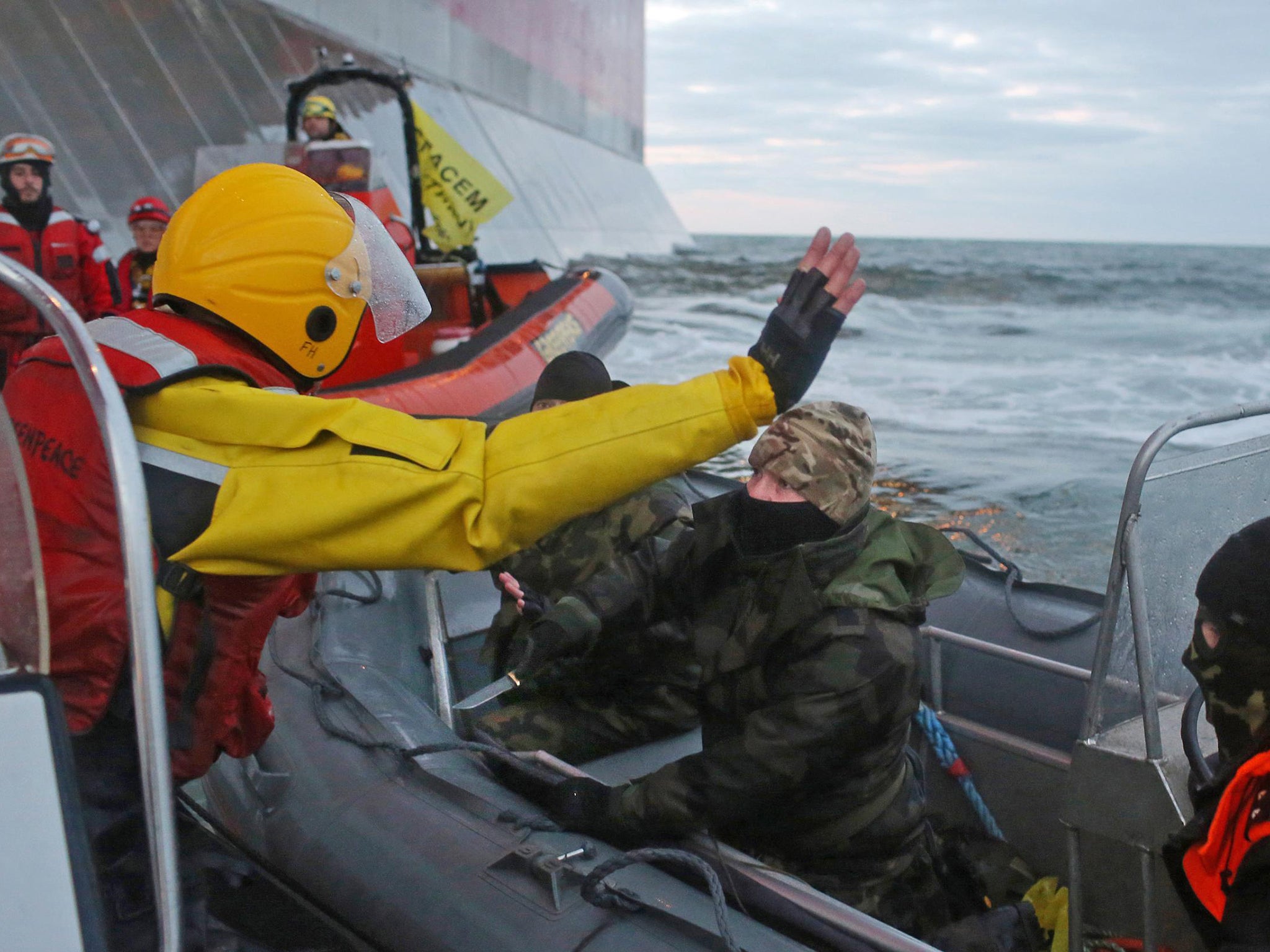 Russia apparently insists upon control of its northern coast, (15,000 miles of undulating shoreline north of the Arctic Circle), and horrifies environmentalists by replacing diesel-fumes with smokeless nuclear ice-breakers. They plan on developing a northern sea-route, and upon their northern ports being developed, and upon northern resources being exploited. They even have the audacity to plan to build massive nuclear ice-breakers-with-helipads like the world has never seen, within five years.
Not that Russia cares all that much for Truth, or Freedom of Speech, but at least they have the old-fashioned pragmatism which deals with facts, rather than with unfounded idealism and with fabricated theory such as "The Arctic Death Spiral." And, because they deal with facts, there is at least a chance they will someday receive the bounty that comes from honoring Truth.
Personally I am more interested in a different bounty, which is the wonderment that comes from looking at sea-ice, (and the associated weather), with eyes unclouded by bias or any need to be politically correct. Not that simply reporting what your eyes witness doesn't get you in trouble. In certain circles you can cause a deathly silence to fall, simply by stating a truth, such as, "Arctic sea-ice isn't decreasing. There was more arctic sea-ice this September than in September, 2007."
In some ways I'm getting tired of offending people with Truth. This is especially true when the people I offend are beautiful women. It hasn't just occurred when I was a young man in Maine, (and the Truth involved was that the woman was beautiful and I was lustful). It's been going on since I was knee high to a grasshopper, and the beautiful woman I was offending was a young schoolmarm and I was a young truant. You'd think I would learn, but in some ways I seem worse than Rodney Dangerfield when it comes to getting any respect. This has led me to suspect the problem may not lie entirely in myself.
After all, I know better than to bring up the subject of arctic sea-ice at either a Conservative church supper or a Liberal cocktail party. I don't go looking for trouble. But, when someone brings up the local bad weather in a most casual manner, and someone else responds, "Yes, this Global Warming is really getting terrible", Truth always compels me to state, "There was more arctic sea-ice this September than in September, 2007." And then beautiful women look at me aghast. It's not fair. The situation even seems a sort of set-up. (WARNING: Rant Alert.)
I feel it is high time for old geezers like myself to stand up and be counted. After all, old geezers have rights too, y'know. "If you prick us, do we not bleed?" It is high time to form some sort of blaring political noise, some loud and objectionable "Codger Power", able to be equally annoying as everyone else.
Life is cruel to us boys. (Yes, another sidetrack from sea-ice has begun, but it involves why the subject of sea-ice is so side-tracked even among scientists of the arctic; IE: I'm not the one who started this sidetracking from Truth.)
I've been involved with raising children for decades as a father, coach, and finally, over the past decade, through running an outdoors-oriented Childcare on a farm, and I have seen various child-rearing fads come and go. For a time "experts" stated discipline stifles a child, but then (when "permissiveness" blew up in their faces), they did an 180 degree swivel and the same "experts" then stated "lack of boundaries" make children feel "unsafe".
Recently an interesting development has involved a seeming realization that Childcare play-areas are set up in a manner which is preferential to the needs of girls. Apparently most girls focus more on "fine motor skills", while most boys focus on "gross motor skills", and most indoor play-areas focus more on sitting than on tumbling. Also most teachers are female, and, if asked to be honest, state they prefer teaching small girls, who tend to be more complacent and obedient, than small boys, who tend to be brats.
When it comes to getting-in-trouble, roughly 80% of all children expelled from Childcare situations are boys, and this causes further damage to boys because small children have a deep need to be included. In essence small boys are placed in a situation hostile to what they require, creating a Tom-Sawyer-vs.-Aunt-Polly dichotomy from day one.
Childcare professionals have been aware of this problem for two hundred years, and in fact the word "kindergarten" comes from "children's garden", meaning that it was a garden that "grew" children, but also included the idea children didn't learn by rote at rows of desks, but in "gardens", through activity and movement called "play". The originator, Friedrich Froebel, had bad experiences in school and was expelled from many, but eventually became an academic who attempted to define why "play" was important, identifying first ten, and then twenty, categories of "play".
Considering Froebel's German ideas came to the United States before the Civil War, we should know better by now than to think children learn by rote at rows of desks, whether such regimentation is called "a class" or "circle time". But we haven't learned. Instead schoolmarms are placed in the position of being wicked witches, banning recess and drugging small boys for being boys. It seems little wonder that boys often hate school. The drop-out levels of boys have increased (along with drug-addiction), and girls now are more likely to seek college than boys are. And yet we are supposed to pity feminists? What about old-codgerists? Shouldn't old boys like myself get a chance to march about and be irate and offended, too?
When I myself was a boy I detested school but loved learning. I could hardly wait to leave school so I could learn something. One reason I opened my outdoors-oriented Childcare was because I did most of my learning while roaming forests and fields, and wanted to share the joy I felt. Yet, as I watched the children at my Childcare, I became aware they were learning a huge amount without me, simply through hands-on experiences while romping.
Call such learning "field-studies" if you will, but such learning required no thesis to be written, and, in the cases of the youngest, it required no words, as they hadn't fully learned to talk. They would just point at something, and look at me with their eyes glowing delight. It was obvious they were learning, and also obvious they loved learning. School was not a bitter pill. Wisdom was not a thing to be measured by tests. More was learned during recess than in the classroom.
It seems to me that it is later that small children start to ask "why", and do it to such an excessive degree that it can drive you bonkers. Even when you answer "I don't know" they immediately inquire, "Why don't you know?" Sadly, in some classroom situations asking "why" earns one a look of disapproval from the schoolmarm. Perhaps this is one reason I myself began to look out the classroom window. The answers to my "why" questions were not on the blackboard.
It is interesting to note that among the places I liked to wander, when the final bell rang and I bolted out the school's door, was a place you would not expect a "bad student" to go. When the whim hit me, I'd stop in at the town Library on my way home from school, and wander about looking for something interesting to poke through. Sometimes I'd find a book and become so engrossed the Librarian would have to tap my shoulder and show me the door, at closing, and I'd be late home for dinner. The next day I'd be "kept-after" school for having failed to do my math homework, but perhaps my homework was undone because I had learned more about the Greenland Vikings than my teacher knew, even when she was five times my age.
Skip ahead three decades, to a time when I had children of my own, and became aware that the teachers were teaching my children things about Greenland Vikings (and arctic sea-ice), (and other things), which I knew to be false. What to do? I went to the teachers to have a chat, and lo and behold! Thirty years made little difference; I got a look of deep disapproval from the schoolmarm.
They taught by-the-book, and what the book said was not to be denied. I politely inquired, "Which book are you referring to? I've read many on the subject, and many articles in various magazines." They then became slightly defensive, for the book they were teaching-by was "the textbook", which had a single paragraph about Greenland Vikings, and a single paragraph about the danger of the "Arctic Death Spiral", (and some hundred paragraphs suggesting that man was destroying the planet). A bit of delicate, further inquiry informed me that, back in college, the schoolmarm had never studied either Greenland Vikings or sea-ice. But, rather than humbly admitting I might be older and wiser, the young whippersnappers did what schoolmarms always do to me: They sent me to the principle.
As I sauntered down a hallway to his office (thinking, "This is just like the old days") I could see this wasn't like the old days. The hallways seemed to reverberate with a lack of discipline, and the noisy classrooms I passed were largely out of control. One boy grabbed a teacher's chair, which had little wheels, and rolled it out of a classroom, across the hall, and tumbled it down a staircase, laughing his fool head off. Then the boy saw me. I didn't say a word, but the boy slumped and stopped laughing, and trudged back into his classroom pouting, and took his seat.
I then had a interesting talk with the principle, who was a seemingly jolly, spineless man who informed me that the problem wasn't the children; it was the parents. We didn't talk about Greenland Vikings or sea-ice very much. Instead I agreed parents should be more helpful. I proposed having some parents simply walk up and down the hallways, as it seemed to make boys behave better. Being spineless, he agreed this was a good idea, which led to the formation of CARE ( which was an acronym which stood for "Concerned About Responsible Education") and for a time I wordlessly walked the halls in shifts with two other fathers. It seemed to have a positive effect. I later learned the principle despised me, and said bad things about me behind my back, though he always spoke to me with sympathetic eyebrows, high in the middle and low outside. He was sympathetic even when I stated I had decided to withdraw my children from his madhouse, and to "home-school".
Home-schooling was my chance to learn what it is like to be a schoolmarm. Although I never wore the clomping, fat-heeled shoes that teachers wore in my youth, I felt I walked in their shoes, and I consequently have far more respect for schoolmarms. (Even your own children can come up with the most fabulous excuses for undone homework.)
One thing I wanted to do was to make school different than I remembered it being. I wanted learning to be joyous, as it was when I learned by hiking through forests and fields (and by browsing libraries and, later, back alleys.) But I was confronted by a harsh reality: Some aspects of learning are not "fun", namely the stuff old-time teachers called "drill".
Some things are fairly boring to learn. For example, multiplication tables. Such things are vital to further learning, but I was never very good at learning things unless they were part of some larger logic. For example, I did badly in foreign languages because at the start it was vital to learn a list of meaningless words. However I could manage to learn a phrase or two when it had some sort of value to me: To this day I can say "The woman is very beautiful" and "You are a stupid ignoramus" in Russian (but not much else.)
In like manner I did learn some math, due to good teachers who interested me in figuring out the batting average of baseball players, and how many boards it would take to roof a fort I was building. But I had a hard time learning things that had no personal context or reference point. If I could see no reason, I had a hard time "applying myself". I can't tell you how many times I heard, "You have a good mind; why, why, why won't you learn?" and, "You are an underachiever."
In actual fact I was an overachiever, when it came to being a stubborn donkey and refusing to allow my mind to budge unless I was interested. In many cases the rare teachers who managed to teach me things I wasn't interested in were the old-fashioned sort, who had no mercy, and who answered my "why" questions with, "Because I said so."
The weapon such old-fashioned teachers wielded that worked best (on me) was to threaten to keep me from the forests and fields and libraries and alleys I loved, and one Science teacher got me to do an astonishing amount of dull homework because the alternative was to go to school with her all summer. Another old English teacher was more gentle, but simply forced me to do the same paper over and over until I handed in a draft with every word spelled correctly. (No spell-check back then). (Interesting to note I had a big vocabulary for my age, but couldn't be bothered to learn to spell even simple words correctly.)
One thing that made those old-school teachers different was their emphasis on "completing your work". It didn't matter so much if the work was an "A" or a "D", but that it was done. There was no "participation trophy" for merely showing up, and "trying" wasn't an excuse for failing to complete an assignment. Even if you did a poor job, the job must be done. Nor did you necessarily earn approval, even when the job was done. You might earn a smile if you did "A" work, but not if it was "D" work. But even the the glower you got for "D" work was better than what you got for "incomplete" work. Looking back, such severity seems an afterglow from some former time, some echo of "The Puritan Work Ethic."
At the same time there were new ideas and new approaches younger teachers thirsted to try out. I'll gloss over these efforts, because for the most part they were ineffectual, and allowed me to escape "drill". "Permissive" teachers allowed me to skip the rigors "Old School" teachers forced me to face, and let me play hooky. It didn't matter if they called the work "arithmetic" or "new math", and it didn't matter if they called the work "history" or "social studies" or even "social science". If they didn't crack the whip, I'd prefer forests and fields to "drill", and all their blathering about what-to-call-what-they-taught didn't teach me one iota.
But one element of "permissiveness" did seem especially wrong to me, (and to many other schoolboys), and that was the unspoken need permissive teachers had to be popular. Me and my chums actually preferred the Old School teachers who knew we disliked them, for forcing us to "drill", and we didn't much like teachers who felt they had to be our best friend. The word "permissive" somehow meant they had to be "cool" and "popular" and "hip".
Looking back, it seems to me the kids who were "cool" and "popular" and "hip" were a definite minority at my school, and the rest of us were a thing called "not so hip". (Or perhaps "normal"). Therefore the efforts of some teachers to be popular looked like they were trying to woo a minority.
For the kids like me it seemed fairly obvious that such teachers were not the cream of the crop; they had not been "cool" or "popular" or "hip" when they themselves were our age, if only because they were not remotely handsome or beautiful, or particularly athletic, or all that smart. (That was why they were teachers, and not something better). Yet they had this odd wish to be what they never were, and thirsted to hang out with the "cool" and "popular" and "hip" kids.
Even to a twelve-year-old such behavior seems a bit pathetic, and is a sight that even seems pitiful: A thirty-year-old man or woman seeking acceptance from a minority of thirteen-year-olds who deem themselves classy, even as many of their classmates deem them otherwise.
A reason classmates disliked some peers who excelled (besides envy) was because some who excelled sneered at fellow classmates who didn't do so well. But this meanness was dealt-with among peers by peers. We had our juvenile ways of separating the wheat from the chaff, the generous from the mean, and the genuinely admirable from those chasing the veneer of status. We may not have had words such as "politically correct" and "virtue signaling", but we did have the words "real" and "phony."
In some ways school involved much grouping and regrouping of small gangs, much shifting from superiority to inferiority to equality, as youth figured out where they were comfortable and where their gifts "fit". Among athletes one might feel puny but five minutes later among Freshmen one might feel like a giant. Moods soared and moods crashed as hormones ran riot and roughshod, yet midst this chaos there was an awareness that some "got too big for their britches" or "took things too far." Call it intuition if you will, but it was tantamount to detachment among youth you might deem incapable of anything but reactionary moodiness. Often it popped out of someone's mouth in a way that resulted in gales of laughter, and a bully blushing (and promising to pound the jester later). Status was a precarious perch, like a game of king-of-the-mountain, and the "uppity" could expect a "comeuppance". Yet for some status was the end-all and be-all of school, far more important than classes. For others the exact same status was proof the possessor was "phony", and a person to be pitied. (Epaulets do not make the man).
If even youth can see past status symbols, and pity their peers when they crave such status too insanely (and look like shoppers madly fighting over an object at a sale) then youth can become downright horrified when teachers become equally eager to be included among the "cool" and "popular" and "hip", and teachers act juvenile too. Such antics are hard to forgive or forget.
I recall when I was at my most awkwardly nerdy I was sneered-at by such a teacher. I likely deserved the sarcasm, but the rebuke was not what irked me. What seemed unforgivable was how the teacher turned away smiling towards the "cool" kids as the "cool" kids laughed at me, drinking up their small-minded approval. It was embarrassing. Grown-ups are suppose to be better than that, yet it was what was called "permissive" in 1964, and is called "politically correct" in 2019. Despite all the talk about "zero tolerance" for any form of "bullying", it is a form of bullying. If you don't believe such bullying exists, send a child into a classroom with a hidden camera, and have the child tell the teacher "Global Warming is a fraud."
The pursuit of popularity at the expense of Truth may have a lot to do with the antics seen in Hollywood and among politicians, but it's a dead end. It is Much Ado About Nothing. It involves the IQ of a bunch of clucking chickens figuring out their pecking-order. It is sad when people have to spend so much time and energy dealing with such nonsense, when what they really want to do is study sea-ice.
Also the pursuit of popularity has little to do with the true challenge of teaching, which involves the glaring difference between "drill" and the joy of learning. "Drill" may be necessary and be good for you, but so is cod-liver-oil. "Drill" is difficult to swallow. Either one must adopt the lantern-jawed mercy of a boot-camp sergeant, or be a sort of Mary Poppins singing about how "a teaspoon of sugar makes medicine go down in a most delightful way", but in either case there is an acceptance that drill is, by itself, not delightful.
I thought long and hard about this subject while home-schooling my own kids, as they were forever asking me why should they do what they hated. I had no good answer, so I told them, "Because I said so." However after I put them to bed I'd stay up late, sipping beer and wondering, "Why do I do what I hate?" I wanted an answer better than, "Because I have to."
The answer I came up with involved seeing "drill" differently. Rather than seeing it as a bitter pill one was forced to gag down, I saw (or attempted to see) "drill" was the result of another's joy.
A person in the faded past had endured the hardship, the sweat and strain and pricks to the ego, which led to the joy of revelation. And they then handed you all they worked so hard to achieve across the chasms of time, for free.
What such past people offer may be a thing as mundane as the "multiplication tables." Learning such tables may be as dull as dust, but we should be thankful we don't have to start from scratch and figure them all out for ourselves.
In like manner, when faced with a long and dull list of vocabulary words, we should be glad we are not faced with the task of coining such words. Most use words without any understanding of the Herculean efforts made by all sorts of word-smiths across the ages to hammer, distort and anneal the word into its current shape and definition.
One unusual aspect of my childhood was that my mother didn't desire, (as a feminine equivalent of a man's "den" or "man-cave"), a kitchen and pantry cluttered with cooking paraphernalia, or a sewing room, or a craft room, or a gym, but rather a library. She was a bibliophile, and even had a massive dictionary on an ornate stand in the dining-room. During the best days of my childhood (when my parents still got along) I sometimes was allowed to join the grown-ups during dinners that included foreign dignitaries, to whom English was a second language, and quite often the massive dictionary was consulted to see if a word was "used correctly". Sometimes these visits to the dictionary were brief, but on other occasions (perhaps because my Dad could mix a powerful "old fashioned"), the conversations digressed in delightful ways into the various shades-of-meaning the same word might have, the origins the word had, how the meaning had changed over the process of time, and how shades-of-meaning could be different in different lands. (For example, in 1959 the word "fantastic" had a positive connotation in the United States but a negative connotation in India.) Even during dinners without company my mother tended to feel the definition of a word was chiseled on stone, while my father tended to look for loopholes, and the dictionary would be consulted. The result of all this was that, for me at least, the "drill" of learning a list of boring vocabulary words was less distasteful than it might have been for other children.
Drill is made distasteful when it becomes divorced from the amazing people who made the dull facts important. This is never more obvious than in the case of History. One is too often forced to memorize dull dates, but not told the full story. It is amazing how much passion and wonder can be lost through the study of dull dates. After such dreary memorization a bored boy is expected to write, on a test, "Valley Forge occurred in 1776", without any real understanding of what occurred, or even that George Washington was involved. Where David McCullough's book "1776" devotes chapter after chapter to what fueled that amazing moment in time, the schoolboy is just given a dull place-name and a dull date. Little wonder some rebel, and call history stupid. History is not stupid, but little wonder some think it is.
If you then add the fact some teachers deeply want to be popular, you can even have teachers who nod, and agree history is stupid. Rather than adding the joy-of-learning to the dull "drill" of history, they throw the baby out with the bathwater, and feel history itself is the problem. They then attempt to find a better way, something other than what actually happened.
Such a revision of Truth, of what actually happened, is called by some "revisionist history" and by others "progressive." I call it "denial of fact", and think, if you study history, you can see it often leads to a terrible end.
Inherent with thinking that history itself is the problem is the idea "old-fashioned" ideas are a weakness, and can be replaced by "better ideas". Yet what happened is what happened; it is the Truth. When you attempt to replace Truth with a "better idea" you venture into the quicksand of utter folly.
I do not mean to suggest all attempts at social reform are folly. History shows us examples where attempts to reform society were beneficial, and where they were not. Therefore the measure of social reform should be the crop it reaps. Does the social reform result in the betterment of all, or disaster?
One of the saddest things to see, looking back in history, is how some so-called "progressive" people came to see their fellows, who had stood by their side as they fought "traditionalists" and rose to power, as being "not-progressive-enough", and as holding them back. Stalin only rose to power due to the helping hands of many "bedfellow" communists, yet he came to see them as too "old-fashioned", and "purged" them, (idiotically killing his best generals on the eve of World War Two.) In like manner Mao, after his "Great Leap Forward" had proved to be a leap backwards, had to deal with criticism he deserved from his fellow revolutionaries. Rather than humbly accepting what recent history taught, he instituted the "Cultural Revolution" which saw criticism (recent history) as evil ("counterrevolutionary"), and basically attempted to purge not only all of his best friends, but all of China's best teachers.
The idea behind this sort of hatred towards tradition and history is the concept that tradition is a sort of weed, and that if you remove the weed something beautiful will grow. I honestly believe that both Stalin and Mao believed they were justified to kill, because something beautiful would result. Each morning they hopped out of bed, expecting that killing best friends and schoolmarms would result in roses. It never did. Apparently weeding isn't enough. You must also plant.
The process of "planting" involves treating best friends and schoolmarms better than Stalin and Mao did, even when they disagree with you. Rather than seeing Truth as a backwardness and an enemy, it accepts the fact that even when Truth hurts, it is better than the alternative.
If you can follow my logic, you may glimpse Truth is not the dry lists of dull facts one grits their teeth to learn during "drill". Rather Truth is a relationship. Rather than inanimate like stone Truth is alive. A inanimate stone just sits there. It cannot hurt you unless you go out of your way to fall on it head-first. However animate Truth can hurt you, even when you are minding your own business.
At this point I am moving into mystic territory. I don't want to go there. I just want to lift the veil slightly, and hint at something. (Whether you choose to explore further is your own business). Let it suffice to say that I feel Truth is not a thing. It is a relationship we all are embarked upon, with whatever It is that made us.
I will say this: Our relationship with Truth is contentious. We all are social reformers in one way or another, and do not believe reality is as it should be. Though we may be like specks of dust upon a very small planet by a small sun in a small galaxy in a infinity giant universe, there are days we dare presume to grab the even huger Creator by the scruff of His neck and demand answers. (Confess. You've done it.) What amazes me is that, rather than being immediately incinerated by a bolt of lightning, we get answers. "Seek, and ye will find."
In his long poem "A Lesson For Today", the poet Robert Frost ends by suggesting he wants the epitaph on his gravestone to read, "I had a lover's quarrel with the world." In other words, if you seek Truth, do not expect an easy road lined with roses.
What holds true for students of poetry also holds true for students of arctic sea-ice. Truth is no outing for the feeble. Often those who stand by Truth win no earthly popularity, nor wealth, and seem to be proof honesty is for losers who want to wind up crucified, hanging from a cross upside-down like Saint Peter. Yet in the long run, even in earthly terms, who was the loser? In Rome, now, a huge building is called "Peter's", while "Caesar" is a name we give to dogs.
I often state "Stand by the Truth and the Truth will stand by you", but this may not play out in the short term, which at one point in my life had me saying "Righteousness is never rewarding."
For example, at one point the honest meteorologist Dr. William Gray advised the politically-calculating Vice-president Al Gore that Gore's ideas about Global Warming were not scientific. Rather than being rewarded for his honesty, Dr. Gray saw his funding cut and was marginalized. Meanwhile Gore received awards and made millions for a movie (that British courts stated could not be used to educate British children with, because it included many falsehoods), ironically titled "The Inconvenient Truth." In such situations it may seem there is no justice, and that the final Truth is that this world is made exceedingly disagreeable (because otherwise we would not seek a better place). But time will tell. Dr. Gray reached the end of his life with dignity, whereas Gore exudes such a halitosis of corruption one dislikes the thought we breathe the same air. (Not that I expect to be invited to his birthday party and stand in the same room, but we breathe the same air even if I flee to the far side of the planet.)
Gore is no different than the rest of us; he too has a relationship with Truth. In the harsh light of hangovers his eyes must seek their corners, amazed over how far he has fallen to become bloated with power and wealth. Yet none of us compare all that well with Perfection. In our relationships with Truth we all receive pricks to our fat egos, but none has fallen so far as to be beyond redemption; (it is said the thief on the cross next to Jesus walked the avenues of paradise only hours later).
In our relationship with Truth we are always teetering, with our hearts and heads never quite in balance: Our heads tend to be too dry and intellectual even as our hearts are too emotional and impulsive. That is why we need Truth to lend us a hand. We need something better than we are, to refer to. The amazing thing is that Truth is always there, offering.
Lastly allow me to repeat myself and state Truth is bountiful. One may not get the money they desire or the fame they desire or the power they desire, (or the beautiful girl on a Maine beach they desire), but in the end they get the best thing, which is Truth. In our constant and sometimes ludicrous efforts to reform society and change the world, Truth is our constant companion and lodestone, offering us feedback in the form of the harvests we reap, which can defy all odds and amaze us. (For example, Jonah felt preaching about Love to the merciless Assyrians was an exercise in futility and complete waste of time and might even get him killed, yet, (when he finally got around to giving being-an-advisor a shot), he saw, to his amazement, the entire bloodthirsty Assyrian nation repented and reformed [and postponed their eventual downfall by some fifty years.])
Truth has power we can't imagine, which gives us every reason to study it. Under its beneficent sunshine rivers that barely trickle can rise sixty feet.
In terms of arctic sea-ice we need to stop the silliness of "adjusting" the Truth in a way that denies what we already know, and get back to studying what is actually occurring up there. Even a rank amateur like myself can see hints of mysterious powers, atmospheric waves that move the wrong way or cross the Pole, and these ill-defined shapes may be far more than the swirling aftereffects of storms to the south. I like to toy with the idea they may be hinges capable of pivoting vast atmospheric rivers, trapping cold air in the north with a "zonal" pattern or unleashing arctic outbreaks far to the south with a "meridional" pattern. Such changes make a huge difference to farmers, and understanding such changes would be an advantage to all people, for if farmers in Iowa knew a cold year was coming that would kill their corn, they could plant winter wheat instead. In like manner history informs us that massive shifts can occur to the currents of the North Atlantic, making rich fishing grounds sterile and barren seas bountiful. At the very least fishermen could save a lot of gas used searching for the fish, if they knew such a shift was coming and the fish would be moving.
Considering such drastic changes to the ecology of the Atlantic occurred even before light bulbs were invented, it seems silly to now blame such changes on incandescent bulbs, and to imagine we can move the seas by buying curly ones. Rather than thinking we control the weather we should be more humble and see the weather controls us, and seek to understand it. And such understanding does not come by seeking to replace Truth with adjustments, but rather by studying what actually is occurring, irregardless of whether it is politically correct or whether it confirms some preconceived bias. Arctic research deserves greater funding not because it benefits some political party, but rather because Truth benefits all mankind.
In any case, here we sit, having wasted decades preparing for Global Warming that shows no real sign of manifesting. Billions have been squandered attempting to prove something that isn't true, deranging our energy infrastructure in the process, and leaving us ill-prepared for the onslaughts of winter. And winter is coming.
The "warming" seen on various charts and graphs is largely due to adjustments, but some warming is genuine and cannot be denied. However it may well be due to a completely counter-intuitive cause: Less energy, due to the so-called "Quiet Sun", may initially have a warming effect.
Ever since I first began paying attention Alarmists have been pish-tushing solar variations, stating they're incapable of having much effect. They often point out the variations in TSI (Total Solar Irradience) is roughly only a tenth of 1%. Or one part of a thousand. Yet then these same Alarmists turn right around and and say one part in a million can have a huge effect, when it involves the composition of the atmosphere. They can't have it both ways.
My own take is that a change of only a tenth of 1% in the amount of sunshine striking the earth may seem small, but is actually a stupendous amount. After all, the sun is no small thing, even though you can cover it with your thumbnail as it crosses the sky. Here's some trivia from "Cool Cosmos":
"Compared to Earth, the Sun is enormous! It contains 99.86% of all of the mass of the entire Solar System. The Sun is 864,400 miles (1,391,000 kilometers) across. This is about 109 times the diameter of Earth. The Sun weighs about 333,000 times as much as Earth. It is so large that about 1,300,000 planet Earths can fit inside of it. Earth is about the size of an average sunspot!"
Currently the sun has become more quiet than at any time since the Dalton Minimum (roughly 1790-1830). At times the TSI has sunk to "unprecedented" levels.
The problem I run into, when dealing with the TSI, is that there are variations from graph to graph, and discussions involving things above my head, such as brief drops involving sunspots rotating around and facing the earth (which makes me think a spotless "Quiet Sun" should have a higher rather than lower TSI) and also arguments concerning the sensors used and "adjustments" made to the sensors used in the past. In the end I tend to fall back onto the observations from the Dalton Minimum, before the TSI was measured.
While the start of the Dalton Minimum was fairly quiet, after a decade things became "interesting": Two of the largest volcanic eruptions of the past millennium occurred in 1810 and 1815, parts of the subtropics experienced summer snows and frosts, and there were extreme variations in the location and amounts of sea-ice, (including the amazing phenomenon of icebergs grounding on the coast of Ireland, that I mentioned earlier.) It seems a "Quiet Sun" had a significant effect, even if we haven't been able to figure out the practical plumbing of its causes and effects.
One current observation that seems counter-intiuitive to me is that the SST (sea surface temperatures) have become warmer even as the sun has become less energetic. Though the southern hemisphere may now be hinting at some cooling, the northern hemisphere continues well above normal. (Below is the current anomaly map, not showing actual temperatures but rather whether temperatures are above or below normal.)
How could a less energetic sun cause warmer seas? After brooding a bit, it occurred to me that, besides measuring energy with thermometers, we could focus on the energy measured by anemometers. If a less-energetic sun slacked winds, especially Trade Winds, there would be less up-welling of cold water from the sea's icy depths, resulting in warmer water at the surface, warmer and moister air above the seas, and consequently warmer and moister air working its way to the Pole (where only a small change in moisture jolts temperatures upwards to a far greater degree than the same amount of moisture alters temperatures in the tropics.) This would explain why winter temperatures have been warmer at the Pole, (and much of the slight "Global Warming" we see in honest statistics has been due to winter-warming at the Pole). However in the summer, when above-freezing temperatures at the Pole make slight rises in humidity less influential, the summertime Pole has actually trended cooler than normal by a small degree, which could be caused by slightly decreased sunshine 24-hours-a-day.
The idea that a slight thing like a decrease in TSI could warm the entire Northern Hemisphere may seem a bit preposterous, but if you think of it there are plenty of examples in life of small things having big consequences. Kingdoms can be lost "all because of a horseshoe nail", a gain of sand can start an avalanche. In terms of meteorology the phrase "tipping point" is often used, (both correctly and incorrectly), and in some cases a hair can make a huge difference. It is like a marble rolling slower and slower up to the peak of a rise, at which point it can either fail to crest the rise and roll backwards, or crest the rise and accelerate forwards. In terms of a computer model and a weather forecast, this can be the difference between a ridge of high pressure being pumped and pleasant weather, or a trough digging and a gale. (Just as an example, there is currently some concern here in southern New Hampshire about winter snows getting off to an early start, and Joseph D'Aleo discussed the topic on his site at Weatherbell, and in the process he looked at fifty "runs" of the European Model, describing how much snow we might get over the next two weeks. Here are 25 of the runs:
Basically what the "runs" state is that we might get two feet of snow or might get none. Not much of a forecast. I suppose it does show storms will be whizzing by, maybe out to sea or maybe to our north or maybe hitting us, (but, because this is November in New England, we already knew that). However what I wanted to emphasize was how small things can make big differences. The reasons the "runs" of the model are so different are caused by quite minor tweaks to the initial data. A "butterfly flapping its wing" can totally ruin a superb forecast.
This is especially true concerning whether the Pacific will generate an El Nino or La Nina. Some sort of "tipping point" is involved, but no meteorologist seems able to pinpoint what it is, for the forecasting is persistently poor. Yet the difference between an El Nino and a La Nina is huge, and has worldwide consequences.
In a La Nina the warm water is "piled up" towards Australia and cold water upwells towards South America, and the world tends to be colder and drier, while in an El Nino the warm water spreads out and cold water sinks, and the world tends to be milder and moister. The Trade Winds are involved, and it is a case where less-is-more. Less winds creates more heat.
In like manner, I suspect a lower TSI might create a less-is-more situation where less heat from the sun initially makes the planet milder. But I stress that word "initially".
To me it seems that spreading out the heat over a larger area could cause the heat to be lost more efficiently. It would be like your tea being too hot, so you pour it in the saucer to cool it. (Not that I've ever done this, but as a boy I asked an old lady what saucers were for.)
(It may not merely be fishermen who own first-hand-experiences that certain Climate-scientists should attend to; old ladies drinking tea may know a thing or two Climate-scientists don't, as well.)
The spreading-out of milder water not only loses heat to the atmosphere (which then loses heat to outer space), it also moves north to the northern reaches of the Atlantic and Pacific, and melts sea-ice. Alarmists felt the resultant open water in the Arctic Sea would absorb sunlight and cause the "Arctic Death Spiral", but the open water largely does not appear while the sun is high, but rather appears when the sun is getting low in late August and setting in September. In such situations the open water is not absorbing sunshine, but losing heat to the arctic night. Heat is not merely lost directly, but through the latent heat released during the phase-change from water back to sea-ice, which is far greater during years like this one, which saw more open water, and has already seen much open water swiftly refreeze.
Where some Alarmists suggest that the recent rise in the planet's temperatures by a few tenths of a degree is a sort of irreversible one-way trend, I tend to see it as an action which will result in an equal and opposite reaction. For example, if you put a small pea on a balance, first it will swing down but then swing back up, as it gradually gets back to a state of poise.
It seems to me our planet is constantly attempting to achieve a state of poise, but constantly subjected to peas that make the balance swing. Even the yearly shift in summertime sunshine from the Northern Hemisphere to the Southern Hemisphere and back north again knocks things out of whack to some degree, but the planet keeps working to bring things back into balance. Because the swings have a certain regularity to them, the balancing-work tends to develop a regularity of sorts, and we speak of "cycles", whether they be the cycles of seasons, or sunspot cycles, or the supposed 60-year-cycles of the AMO and PDO. But these cycles can also get knocked out of whack by things such as especially explosive volcano eruptions, or even asteroids (not to mention things I know little about, involving an "electric universe", or the 12,000 year cycle of "magnetic excursions" mentioned on the "Ice Age Now" site, or in scary videos such as this one:
One constant, while considering the blows our planet has received in the past and may receive in the future, is our planet's toughness and resiliency. It is like a boxer who can be pounded but cannot be knocked out. The idea of a "tipping point" being triggered that turns the planet into a hothouse like Venus is patently absurd, (but the idea of a society being triggered into absurdity is perhaps not so absurd), (and may be happening.) There is a tremendous power dragging the earth back towards equilibrium.
At times I think the swings back towards equilibrium manifest in ways that strike us as anything but peaceful. For example, a summer thunderstorm may not seem peaceful, but gets rid of excessive heat and brings things back into balance. In like manner, when some volcano reduces the amount of heat arriving on the planet's surface, a "zonal" pattern may shift to a "meridional" pattern with the jet-stream contorting into fabulous loops, yet this may just be the planet's way of redistributing the heat to get things back in balance.
I think this is what we should be watching for, and may already be seeing, in terms of the "Quiet Sun". But one thing we need to be wary of may be glimpsed to the old (and now "adjusted") records I showed earlier, which showed a dramatic increase in sea-ice between a record low in 1960 and a high during the winter of 1962-1963. It was a rapid increase of 1.5 million km of ice. Here is that illustration again: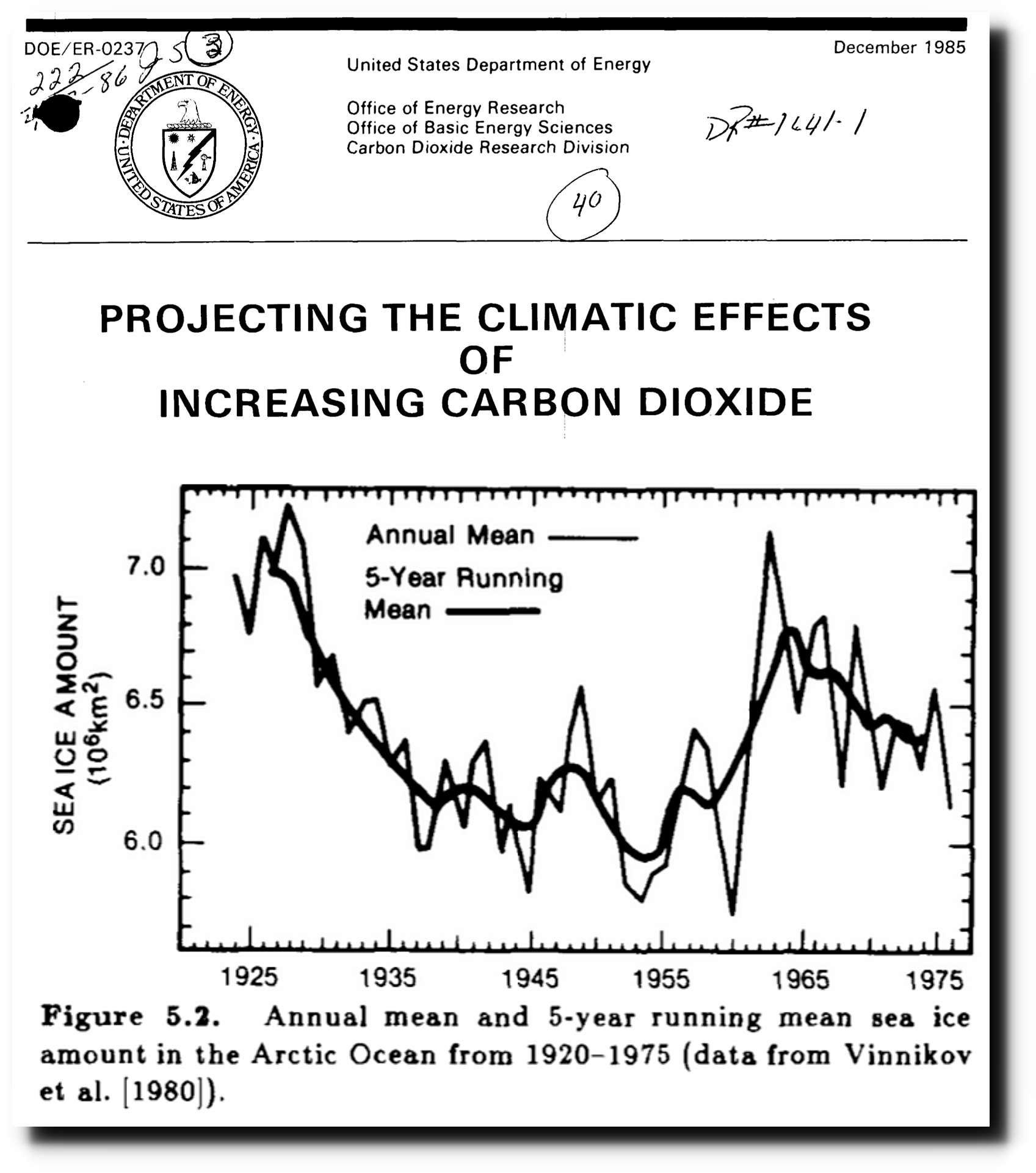 It seems to me that a reappraisal of Vinnikov's data would be fascinating. What was he witnessing, and what were the causes, and what were the effects? There does seem to be evidence that the world saw quite a dramatic period of cooling at that time, resulting in the "Ice Age Scare" which is so well documented by Tony Hellar's collection of old Newspaper articles from that time.
https://realclimatescience.com/1970s-global-cooling-scare/
The question I ask myself is, "Could we be on the verge of seeing history repeat?" Personally I loath the prospect, as my circulation is not fond of cold winters. I'm not the hot blooded dude I was in Maine, back when Jimmy Carter was president. However whatever will be will be, and it pays to keep an eye to the north in November.
Currently things look a bit ominous. Three weeks ago (October 11) the waters north of Siberia were wide open and snowcover was just starting to expand in Canada.
Now (November 4) the waters north of Siberia have swiftly skimmed with ice, Canada is largely snow-covered, and many of the smaller lakes in Canada have frozen (blue above but yellow below).
I'm now watching for the large Canadian Lakes and Hudson Bay to flash-freeze. As long as they are open they moderate arctic air, creating a sort of landlocked "maritime effect", but as soon as they freeze, bitter cold can build. Also the pattern is worrisome due to a persistent ridge up the west coast of North America. That may bring warmth to western Alaska (note less snow there) but it tends to drain cold air into the heartland of USA and eventually effects our east coast. During the worst winters it drags frigid air from Siberia across the Arctic Sea, so I'm watching for the waters north of Bering Strait to flash-freeze as well. During the winter of 1976-1977, back when Jimmy Carter was president, we got stuck in such a pattern from November all the way into February. So I'm keeping my finger's crossed that the west-coast-ridge breaks down, for now that I'm an old geezer I'm more of a wimp. (However if you're young and like snow it is something to hope for).
If you are an Alarmist, and are stoically hanging on to the "Arctic Death Spiral" theory, what you should likely do is shift to sea-ice "volume" graphs. The DMI graph currently shows surprisingly low "volume".
The low "volume" is likely reflecting the low overall extent of the past summer and the fact the new ice is still thin, though it may be indicative of a surge of sea-ice exiting south through Fram Strait (which will be interesting to watch as it approaches Iceland in December.) Also it may have something to do with fewer arctic gales piling up fewer pressure-ridges of ice. Whatever the cause, it helps the cause of Alarmists, especially the young whippersnappers who are looking for a good reason to avoid getting a Real Job flipping burgers to pay off giant loans to a Federal Government that printed money to pay colleges that printed worthless degrees. Who would want to face that? I don't blame some young people for preferring that the world end in twelve years.
As for the rest of us, who pay the taxes and elect the individuals who perpetuate such shenanigans, we expect the unexpected. Just about the only thing safe thing to forecast is that Alarmist forecasts will prove incorrect, for they involve so much that is not Truth. The best we can do is focus on Truth, and have faith that it can produce some wonderful surprises. The climate can change, and dry gulches can fill with living waters, and deserts can bloom.
Stay Tuned…….And stand by the Truth and the Truth will stand by you.