I am not of the Global Warming Skeptics who immediately mock all who sail arctic waters as being silly Alarmists aboard a "Ship Of Fools". Why? For three reasons.
First, I was once young, hot-blooded and very foolish, and went to sea. The sea is a hard taskmaster, and has a way of jarring your mentality from foolishness to reality. I cannot say that what the sea does is to make you more "grounded", for such speculation is groundless, as the sea is. The sea wakes you to way of being beyond the ken of bankers, for there can be no fences, no acres bounded by lines on a deed, nor any of the neat calculations made by the material-minded.
Therefore, when anyone one gets off their under-exercised posterior, and stops their armchair speculation and goes to sea, I intensely envy them. I know their eyes are about to be opened.
Second, one way to have your eyes opened is by on-the-scene reporters.  This is why I bewailed the de-funding of the North Pole Camera and the wonderful "O-buoys". They were the on-the-scene reporters which tended to counter "Fake News". They were the "Free Press" the Founding Fathers sought to protect with the Bill Of Rights, for they produced pictures that tended to counter the "satellite data". Not that the satellites lied, but the data they produced had to go through a filter called a "model", and this had to be interpreted in a certain way to produce a "satellite map",  and then the media would focus in on certain parts of that map and exclaim the North Pole was melting, but the North Pole Camera was politically incorrect, and showed it wasn't melting, by showing melt-water pools freezing over with ice.
What do you do, when on-the-scene reporters report data that differs from what politicians believe is true? In a healthy society you take the politicians to task.  In an unhealthy society you get rid of the reporters.
Forgive me if I seem overly suspicious when I note that four years ago we had seven cameras floating on the ice, and now we have zero.  But it doesn't really matter, for now we have actual people up there. In some ways they are better than having cameras up there. No one cares much if cameras vanish, but if actual people are threatened, interest is heightened. Awkward questions get asked:  How can sea-ice, which Al Gore suggested would be gone by 2014, be threatening lives?
Allow me to digress at this point, and counter an incorrect impression many have about the North Pole. They feel it was formerly rock-solid ice, and only now is there melting, and open water between shifting floes. History tells a different tale, which brings me to my third point.
If you look back into the mists of time you learn that, because whales tended to frequent the rich waters where sea-ice meets the open sea,  and because whales could make a man rich, men have pushed their luck and sailed north to the sea-ice as far as we can look, using the paperwork of port officials who taxed the whaling ships when they arrived home. It may well be that sailors did things under the table, without reporting to government officials, but we have official records of where the "edge of the sea-ice" was right back to the 1500's. We know there was open water  on the west coast of Svalbard, because ships found it more economical to land there and process whale oil there, so that the master painters of the materialistic Netherlands could use their imagination to portray what was described by whalers in taverns.
I could go on.  England did not become a world power because they sat back and speculated in armchairs. Back when they were nobodies, just an obscure island off the edge of Europe, they had sailors seeking the Northeast Passage over Scandinavia and Russia. But I will skip that sea-ice data from the 1500's, beyond stating it exists.
Instead I wish to stress that, for literally hundreds of years, sailors in the arctic have known "open" water can close in like the jaws of a hyena and crush a ship. Not that it stopped them, for they had guts, but it was common knowledge. That is why Nansen designed the Fram to be an odd, round-bottomed tub. When the ice came crushing in the entire ship was lifted. (Building such a ship was an amazing display of fund-raising with no profit in sight.)
The USS Jeanette was not so lucky, and was crushed by sea-ice close to the New Siberian Islands in 1881. The crew was able to cross sea-ice to the New Siberian Islands, but had to cross open water to reach the Lena Delta, which gives us an idea of the sea-ice conditions in 1881.
Meanwhile crushed parts of the Jeanette moved east with sea-ice across the Pole to Fram Strait, and then down the east coast of Greenland, and were found WEST (!) of Cape Farewell on the southern tip of Greenland, in 1884. This shows us the ice was mobile back then, as it is today.
It also is what gave Nansen the idea he could lodge the Fram in sea-ice and simply drift with the highly mobile sea-ice to the Pole.
Why do I bring this up? It is to show what we already know, which certain Alarmists refuse to admit.  To be blunt, they behave extremely indignant when you talk about stuff that happened 137 years ago. They you call you a "denier" for bringing up history, and therefore they cannot be students of history.
Therefore I tend to think that they would not be the best people advising you, if you were sailing north last spring. They might fail to mention how sea-ice can shift, and crush ships.
Therefore when a yacht does get crushed, and sinks, who is guilty? Is is not the people who called me, for stating what history teaches, a "denier"? Are they themselves not the true "deniers", for failing to mention how sea-ice can shift, and crush ships? And instead entertaining a malarkey which states such worry is not to be heeded?
I have no desire to sit on a high horse, and judge Alarmists, though they have sat on high horses and judged me.  Let God be the judge. And God speaks from the non-banker wisdom of the sea. The truth of the matter is this: If you mess with the sea, the sea messes with you.
https://wattsupwiththat.com/2018/08/30/arctic-ice-claims-another-ship-this-time-with-a-sinking/
But don't get me wrong. I don't scorn these two fellows who got their yacht sunk. I envy them. They dared leave their cozy couch of armchair speculation, and be real. They learned what the sea can teach, in a beautiful landscape:
And they took this beautiful ship to the eastern mouth of Bellot Strait, (which is a wonderful short-cut which past explorers didn't know about, and which has made possible Northwest Passages which past explorers could not achieve) and there they learned what the sea teaches. In a matter of minutes they went from being two guys aboard a plush yacht to being two guys standing alone on sea-ice,  praying like crazy others paid their taxes, and a helicopter might arrive to rescue them. And boy were they happy when, after hours and hours, they heard the sound of the approaching helicopter.
In like manner another politically-correct ship set sail full of teachers and students brimming with a liberal desire to document the demise of sea-ice in the Northwest Passage due to Global warming. All had a preconceived notion of what they were about to witness, aboard their mighty ship.
How embarrassing.  This big ship apparently had to maneuver to avoid the very sea-ice they were suppose to be documenting declining, and ran aground.  Students and teachers had to be rescued by helicopter.f
https://wattsupwiththat.com/2018/08/27/another-ship-of-fools-gets-stuck-in-arctic-ice-needs-rescue/
In other words, if you want to prove what you already know, stay at home. Sit at your computer. Never go to sea, for the sea will shatter your preconceptions.
Oddly, though this trip advertised they would transmit many pictures of their journey, there seems to be a strange absence of on-the-scene pictures of the grounding. Perhaps they fear lawsuits. But I find it annoying that despite having on-the-scene reporters we recieve no on-the-scene reports  from Kugaaruk.
Information is power, and I can't help but wonder if certain information is withheld because it fails to support "the narrative". The teachers and students were not going to sea expecting to have their eyes opened, but rather to "further" knowledge they already had. They thought they already knew. But when information is disinformation, one is denying oneself the power information offers.
We have actually known since spring the sea-ice was thicker this summer. The information has been available. The Canadian Coast Guard recently texted:
"Good morning, Due to heavier than normal ice concentrations in the Canadian arctic waters north of 70 degrees, the Canadian Coast Guard, recommends that pleasure craft do not navigate in the Beaufort Sea, Barrow, Peel Sound, Franklin Strait and Prince Regent. CCG icebreakers cannot safely escort pleasure craft. Operators of pleasure craft considering a northwest passage should also consider the risk of having to winter in a safe haven in the Arctic, or in the case of an emergency, be evacuated from beset vessels. Safety of mariners is our primary concern."
It was for this reason the Dogbark, a yacht attempting the Passage from the west, turned around to the east of Barrow and headed back.  Information gave them power, and after scooting through Bering Strait they have had a cozy stay in Nome and now are heading south towards warmer waters.
It is sheer foolishness to suppress information, whether it be current or the history of the Jeanette in 1871. Yet we have seen the promotion of a narrative involving an "Arctic Death Spiral" long past its expiration date.  It included the idea the sea-ice was formerly solid, extending from shore to shore in the arctic, when we already knew the Arctic Ocean has always been riven by leads.  Even in the dead of winter, at temperatures far below zero, these frozen-over leads were thin enough for submarines to surface through in the 1950's.
During the slushy summers areas of open water can become as large as small seas, far from where boats could reach, but were seen by the earliest Nimbus satellite pictures. The Nimbus picture below is from close to the sea-ice minimum, September 9, 1969, and shows a vast "hole" of open water, surrounded by sea-ice, north of Alaska.
To suppress such information is to create misinformation, and generates the narrative-supporting illusion that such sea-ice conditions are a new thing. However we do have three sailors navigating the ice and open waters seen in the above picture, 49 years later. Their description (translated) of conditions on an ice floe in a gale is hair raising:
Last night was very rough: in the late afternoon, our plate breaks in 2 in the swell despite being more than 3 miles from open water. Then the swell forces, the forecasts indicate a max towards 23 hours, the night will be long, it is gray, dark and wet … We take care as we can not to think too much about what is happening outside ; with Eric, we play a game of chess but we have trouble concentrating, the plates bump and move, it's rather tense, we end up making quarters to monitor. 
But then conditions improved:
At 2 o'clock, it finally calms down and, in the morning, we discover a chaos of ice all around us, all the ice is broken, crushed.
We leave, there is still a little swell, it is not very comfortable in the middle of the ice then we navigate in open water for 5 hours and finally, we find the pack ice, first well broken then the plates become more in more beautiful. Under a beautiful sunset, it is difficult to stop and we are super happy to find the safety of the ice away from the open sea. Tonight, for the first time in a long time, we do not hear the water or the plates banging, we will sleep well! 
The great thing about these on-the-scene reporters is that they do not filter the truth. When it's thawing they report  thawing, when it is freezing they report freezing. When it snowed in July they reported snow, when the above gale sucked Pacific air north they reported the rain. They have no preconceived narrative to cling to, and are immersed in the narrative called "present-tense reality". They have their hands full dealing with the Truth the sea presents them with, hour by hour, and are having their eyes opened as only the sea can do.
We too are having our eyes opened by their reports, or should have our eyes opened if we have eyes to see with. For one thing, the "Death Spiral" is again debunked. Why? Because it is suppose to be an accelerating phenomenon; it is suppose to feed off itself; open water is suppose to absorb more sunshine making more open water. The death spiral is not allowed to go backwards. To have levels of sea-ice increase ruins the theory.
Instead of clinging to a failed narrative, and making somewhat absurd efforts to erase evidence that the narrative has failed, it would seem wiser to face the Truth, and cast about for a narrative that works better.
To seek a better narrative is in some ways to "fight city hall", when the old narrative has involved considerable investments of money, power and prestige. Some say "you can't fight city hall" and "if you can't beat 'em, join 'em," and in the eyes of such people to be a Skeptic of the "Death Spiral" is foolishness, and even a sort of social suicide. But I'm an old man, and can't be foolish by going to sea anymore. So this offers me a new way of going cruising for a bruising.
A better narrative? Well, perhaps the sea-ice comes and goes due to influences of the AMO and PDO. (Tap tip to Joseph D'Aleo.)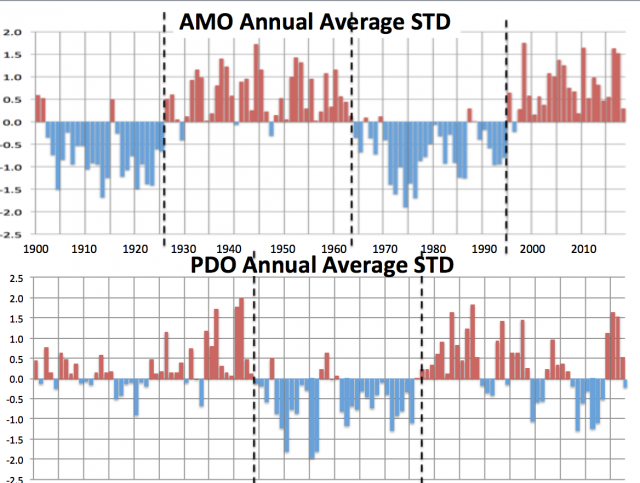 Perhaps the sea-ice shrinks when the AMO is warm, and, on the Pacific side, when the PDO is warm. And perhaps the sea-ice grows back when the AMO and PDO turn cold. And guess what? Both cycles have recently moved from warm to neutral.
Stay tuned.