ARCTIC ROWERS IN TROUBLE?
Some prayers might be in order for four young men who are attempting the Northwest Passage in a rowboat. They haven't reported since yesterday.
 http://mainstreamlastfirst.com/
Theirs is just the sort of stunt I would have pulled when young.  You are sitting around, contemplating how boring it would be to work a real job in the summer, and then someone comes up with the idea to make some sort of social statement, and avoid working a real job.  Usually such ideas never come to fruition, but some youth actually carry out the dream.
In the dream it is sunny, pleasantly cool,  and gulls wheel and cry in the arctic sky, as whales and seals cross blue waves dotted with a few, but not too many, icebergs.
In reality a particularly nasty summer storm has blown up and persisted for days, the sky and water are always grey, and the young men are running into bad sea ice.  While the storm is finally weakening, the temperatures remain around freezing.
The young men have no engine, and must depend on their sheer strength and stamina at the oars to get themselves out of jams.  They recently lost their anchor.
I am praying this is merely one of those tests young men get themselves into, that teaches them of strength within themselves that they did not know existed, and that they can look back on the experience in the future as, (in the words of a Navajo friend,)   "one of those things it is good to do only once in your life."
LUNCHTIME UPDATE:  Apparently their sense of humor is OK.  They saw a formation of ice, and decided in was the "Hand of Franklin."  (Franklin was an arctic explorer who vanished 150 years ago and has never been found.) Posted the picture on Twitter around noon.    http://www.flickr.com/photos/95019072@N08/9391517390/in/photostream/
It's amazing people these days can be so in contact, even when actually far from help.
JULY 31 UPDATE: They still appear to be hunkered down on a small island that doesn't appear on all maps, awaiting better weather conditions.
Follow on Facebook @ https://www.facebook.com/pages/Mainstream-Last-First/143857365738368
Apparently they are aware of publicity, noting that the story of their voyage made the Vancouver Sun: http://www.vancouversun.com/news/national/Last+First+Battle/8721299/story.html
I'm not sure they are aware a more caustic view of their shenanigans is expressed by people who don't exactly share their political views, over at Steve Goddard's site:  http://stevengoddard.wordpress.com/2013/07/30/july-24-miracle-saved-the-rowers/#comment-254653
I ventured the following comment over there:
"It looks like the gap in their GPS record covers a time period between 7:57 PM and 8:51 AM. Thirteen hours. There are also earlier gaps in the record.
I wonder if GPS is a gadget they need to activate, perhaps hitting a button to see where they are. If one member of the crew is really compulsive about their progress, and the rest less interested in the minute by minute details, you could get a watch on deck with a lot of reports followed by watches with few or none.
Their decision to hunker down and wait for more favorable conditions sounds a bit like learning from the school of hard knocks, to me. Or the school of hard bergs. Their battle with ice doesn't sound like a picnic, and in some ways they are lucky to be alive. (They can't be airlifted out if they are dead.)
More than 40 years ago, when I was young, liberal, and something of a "useful idiot," it was the school of hard knocks that snapped me out of my delusions and woke me up. Not all useful idiots remain stuck in their naivete forever. Don't lose faith in the young, even if they do seem like dopes."
AUGUST 1 UPDATE — They are OK, but it sounds like one called "Kevin" is homesick, posting about his daughters.  Daughters?  For some reason I thought these fellows were younger.  (He left a time capsule for his daughters to read in the future: http://mainstreamlastfirst.com/the-time-capsule/ 
He is worried the arctic will be changed, when his daughters get up their to see his time capsule.  Actually he should be worried that his daughters will have changed before he gets back.  Kids grow up too fast, and every moment you spend with them is more valuable than you dream. Fortunately he likely can chat over the web.
He guesses the site is a "Dorset Site."  The Doset culture lived in the warmth of the Medieval Warm Period, and was stressed out by the same Little Ice Age that stressed out the Vikings.  The Inuit were better adapted.
There are some sites of stone that are long and thin,  just about the right size to be roofed by a Viking ship dragged out of the water.  The round sites may be Dorset, but they also can be from the "Independence I Culture," who were the first people to explore the arctic (that we know of) after the Ice Age.  It was much warmer, and the Arctic Ocean likely was ice-free, and higher due to more ice-melt of mountain glaciers and Greenland's Ice cap. Geologists can see the wave-made beaches created by these higher seas, (which are quite different from the beaches made by grinding chunks of ice,) and in the sand and cobbles find bits of driftwood that come from trees all the way across the arctic ocean.  However there is far less driftwood than you would expect to find, and one reason there is much less driftwood is because the Independance I Culture apparently burned it for fuel, as well as building parts of their homes of it.  (Even though it was warmer, the winter nights were just as sunless.)  In any case, when they first arrived in the arctic the shores may well have been heaped with hundreds of years of driftwood, but they burned it all up over a couple hundred years.  Then it got colder and they likely headed south.
In any case, the not-so-young man "Kevin" ought not worry about the arctic changing.  It already has changed, and will change again.  If one must fret, there are better things to worry about.
UPDATE AUGUST 4—They got out of the last trouble, and made it to Paulatuk.  However they did not do the wise thing, which would be to be airlifted out, and instead headed back out again.  So of course people who care are worried again, and praying again.  I noted seven "hits" on this old post in the time since they left.  So I figured I should update and simply state I know no more than is shown on their GPS map, which can be seen at http://mainstreamlastfirst.com/ .  We shall have to wait to see why they chose the meandering route the GPS shows.  It is sheer speculation to say anything about sandbars or headwinds or ice floes.
I don't think they should expect milder weather.  They may get lucky, but this has not been a benign summer, as arctic summers go.  It has been colder than normal, overall, and also the weather tends to get colder in August.  The midnight sun still is up, but too low, and people who have served in the military up there describe how water containers start freezing over in August, despite the endless daylight.
They are tough, but need to face facts at some point.  They are tough, but not as tough as tough luck can be up there.  I'm not talking about the tough luck of chosing a cold summer to try to make a political point about Global Warming, either.  At some point politics don't matter, sponsors don't matter,  all that matters is those you love and getting out alive.
In any case, I don't think they were wise to head back out, but neither was I, when I was their age.  I wish them luck, though I don't think they will prove much, in terms of politics, if they make progress.  What they are proving now is more in terms of mule-headed, male prowess.  May the Good Lord watch over them as He watched over me, 42 years ago, when I was young, over my head, and far out to sea.
AUGUST 6 PM UPDATE—I see 12 hits on this site today, so I guess I should post an update, although I am no authority.  Their GPS shows them making decent progress along the coast, hugging the coast (which seems wise.)  No Facebook posts. 
Below (if it works) is a map with how far they have come in red and how far they have to go in blue.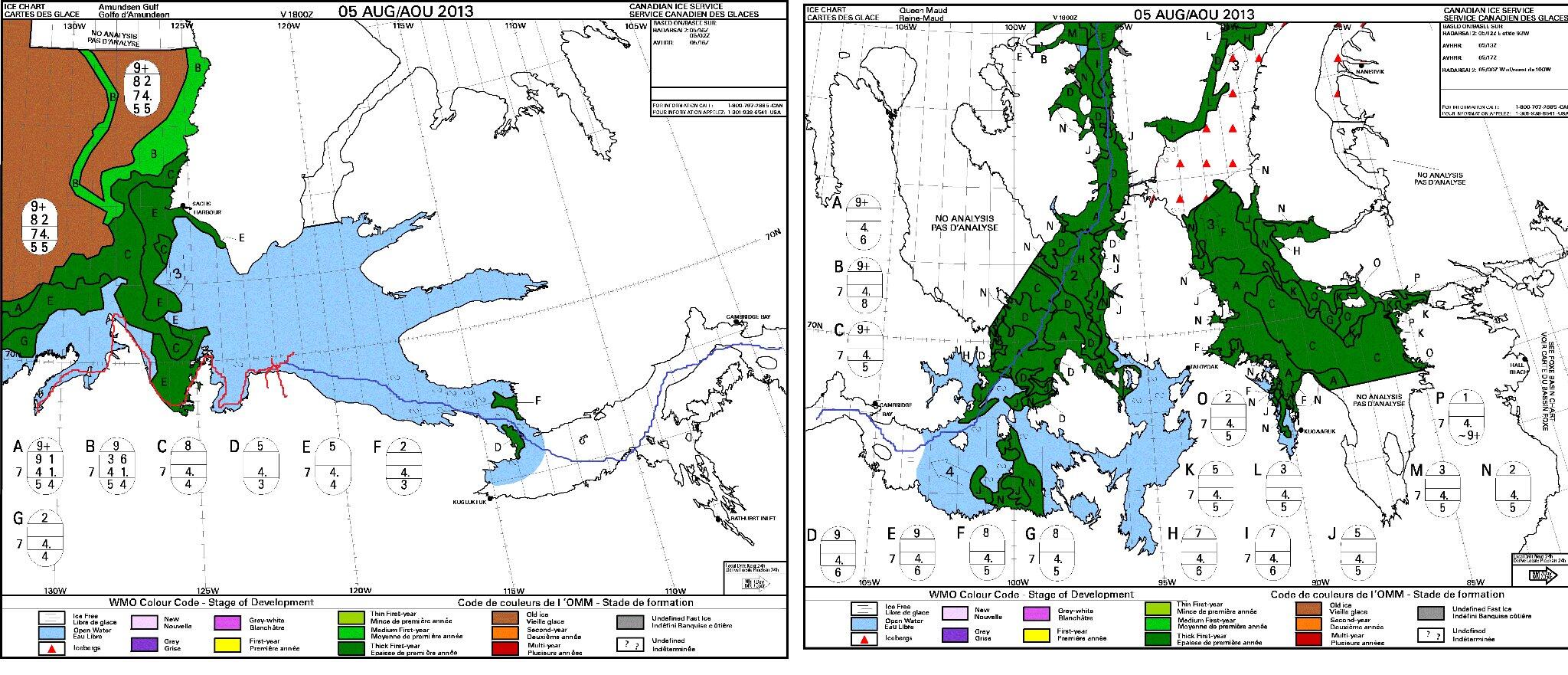 AUGUST 8 MORNING UPDATE—It looks like they are serious about making progress, but may have stopped for a breather. Last GPS position was at around 11:00 PM, after making some serious headway, rowing east southeast, hugging the coast.  They are on the south side of a high pressure, and back at Palatuk temperatures are in the 60's with a light east 6 mph wind, which would be a wind they'd have to row against. The big arctic storm is on the other side of the high pressure and not effecting them at the moment.  
Temperatures should remain mild through the weekend.  They'd best get going while the going is good.
AUGUST 13—Decent progress, but not yet halfway.
The best information is from their own site at http://mainstreamlastfirst.com/  When they are moving they seem too busy to post, but later a southerly gale forced them to pause gave them time to post some updates.